FMS Hamilton Street Campus Pivots To Remote Learning Following Multiple COVID-19 Occurrences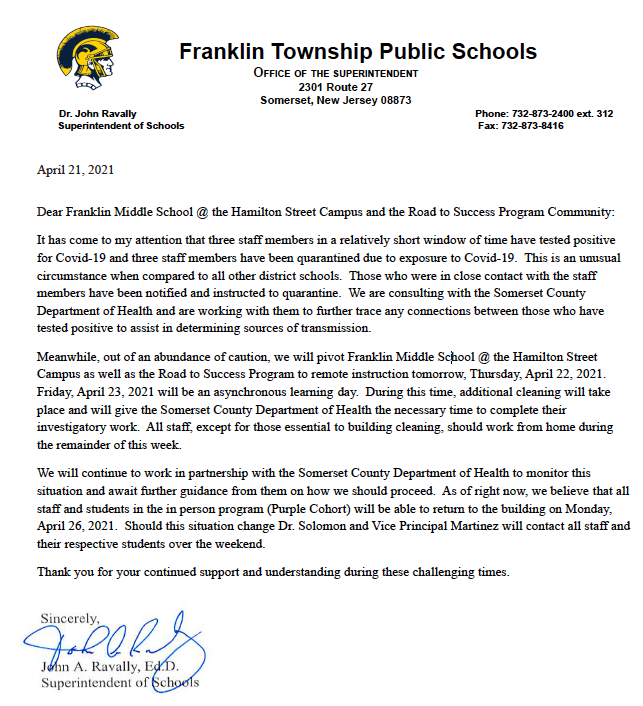 Franklin Middle School's Hamilton Street campus will switch to remote-learning only April 22 after the coronavirus recently affected six staff members.
Three staff members "in a relatively short period of time" tested positive for the virus, and three more are in quarantine due to exposure to the virus, schools Superintendent John Ravally said in a letter to the school community.
Statistics provided by the school district show that three staff members tested positive for the coronavirus between April 12 and 21. A total of 16 staff members have tested positive for the virus during the pandemic, the district's stats show.
"This is an unusual circumstance when compared to all other district schools," Ravally wrote in his letter.
"Those who were in close contact with the staff members have been notified and instructed to quarantine," Ravally wrote. "We are consulting with the Somerset County Department of Health and are working with them to further trace any connections between those who have tested positive to assist in determining sources of transmission."
Ravally wrote that "out of an abundance of caution" students in the school and the Road to Success program will be switched to remote learning for April 22.
As usual, April 23 will be an asynchronous learning day, Ravally wrote.
"During this time, additional cleaning will take place and will give the Somerset County Department of Health the necessary time to complete their investigatory work," Ravally wrote.
"We will continue to work in partnership with the Somerset County Department of Health to monitor this situation and await further guidance from them on how we should proceed," Ravally wrote. "As of right now, we believe that all staff and students in the in person program (Purple Cohort) will be able to return to the building on Monday,
April 26, 2021. Should this situation change Dr. Solomon and Vice Principal Martinez will contact all staff and
their respective students over the weekend."
District-wide, a total of 171 staff members, students and outside vendors have tested positive for the virus as of April 21, according to district statistics. That breaks down to 102 staff members, 58 students and 11 outside vendors, according to those statistics.


Your Thoughts
comments