Fire District Budgets, Purchase Proposals Successful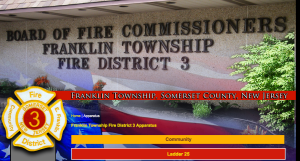 All proposed budgets passed in last week's Fire District elections.
The results from the Feb. 15 vote are as follows:
Fire District 1:
Incumbent Commissioners Jason Goldberg and newcomer Timothy P. Jahno won three-year seats. The proposed $3.5 million budget was approved, 138-39.
Fire District 2:
Incumbent Commissioners Pelham Stewart and Edward Carson won their seats. The proposed approximately $1 million budget was passed.
Fire District 3:
Newcomer Douglas Krushinski and incumbent Commissioner John Ritterson won election to three-year seats. The proposed $1.6 million budget was approved by a vote of 143-30. A proposal to establish a $550,000 "apparatus replacement reserve" also passed, 143-29.
Fire District 4 (South Brunswick District 3):
Incumbent Commissioner Norman Luck and newcomer Christopher Ciabottone won three-year seats. The proposed budget of $542,143 was approved, as was the proposal to purchase a new fire truck for up to $750,000.
Your Thoughts
comments