FHS Sports (Photo Gallery): Varsity Girls' Basketball Team Defeats Watchung Hills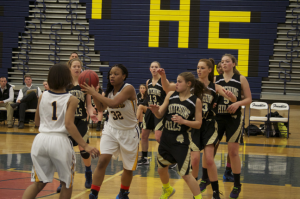 They got off to a slow start, but the Franklin High School varsity girls' basketball team posted a 56-45 win Jan. 30 over Watchung Hills Regional High School.
Watchung Hills grabbed an early lead, popping three 3-pointers making the score 9-2.
But the Franklin girls stuck their defense, holding Watchung to only 3 points while scoring 10.
Franklin tied the score at 12 with about two minutes to play in the first quarter, then grabbed a 13-12 lead with  a good foul shot.
They increased that lead to 18-14 by the end of the first quarter, and pushed it to 32-25 at the half.
By the end of the third quarter, Franklin boosted its lead to 46-37.
Coach Audrey Taylor said that although her girls "were not on the same page defensively" at teh game's start, a glance at the scoreboard brought them in line.
"They recognized the fact that they were getting their butts kicked," she said.
"Once they started making stops, and once we got into our (running) game, that changed the whole momentum of the game," she said.
FHS Girls Varsity Basketball vs. Watchung Hills 1-30-14
Your Thoughts
comments