Dyllan Burrell Remembered By Friends, Family, Teammates At Park He Loved
---
NORTH BRUNSWICK – The Franklin High School freshman who died suddenly during a gym class was remembered by his friends and family May 11 in an impromptu gathering at Sabella Park.
Dylan Burrell, 14, collapsed May 8 on the FHS athletic field and died several hours later in a New Brunswick hospital.
Three days later, more than 150 people showed up at the park where Burrell played Pop Warner football for the North Brunswick Indians to remember him, hug each other and, in more than a few cases, weep.
Burrell's parents, Otis Burrell and Tracy Warren, were there, as were his North Brunswick teammates and coaches and his Franklin High School friends. The event was put together by Burrell's Indians team.
Also in attendance was Somerset County Freeholder and former township Mayor Brian Levine.
After the remembrance, which included a prayer from one of Dyllan's football coaches, his father was presented with a football signed by all the members of his Pop Warner team.
"He was our angel, he was the sweetest kid," Warren said. "He was always the one telling us to be good, take it easy. He enjoyed life."
There were times, Warren said, when her son acted more mature than his years.
"He was always the protector of the family," she said. "I always felt he was so mature for his age."
Burrell, she said, was very protective of his younger siblings, Shelcy, Gihon and Jaden. He also had an older brother, Gregory, and an older sister, Alyssa.
"We feel like he's there protecting the younger kids," Otis Burrell said. "We feel he'll always be there looking out for everyone."
Dyllan's parents lived in Franklin when he was born. He lived in North Brunswick for a few years before returning to Franklin with his father about a year and a half ago.
He played Pop Warner football while they lived in North Brunswick, and opted to continue to play in that town, his father said.
"It was a time he enjoyed," his father said.
Dyllan loved to make people laugh, Warren said.
How to drink water in seconds Sheldon Warren

Posted by Tracy Warren on Saturday, March 10, 2018
"He came home one day and was like, mom I'm going to show you how I can drink (a bottle of) water in one minute," she said. "And I said there's no way you can drink water in one minute. He said time me, and that's when I decided I was going to do a live feed on it."
"So I was like all right, no way you're going to do it," she said. But he did do it, and it "was the funniest thing," she said. "He loves to do stuff like that."
Something else that Dyllan enjoyed doing, his father said, was "making weird sandwiches."
"The last one he made was turkey on cinnamon-raisin bagel, toasted, with some kind of weird cheese," he said.
"I'll come home from work or something and he'll go in the kitchen to make a sandwich, and I'll be like, Dyllan, why are you making two sandwiches and he'd say, one's for you," Otis Burrell said. "That was just the kind of kid he was. Just a very good kid. There's no other way to describe it."
Dyllan loved sports, especially football, and had lately talked his parents into letting him take boxing lessons.
"I told him I don't want you to box, because in boxing, you get punched," Otis Burrell said. "So we came to the agreement that he could do the boxing, but we weren't going to have him fight in the ring, but I didn't mind if he trained for the health benefits of it."
"He said, 'I'm getting my grades up and I want to do boxing'," Warren said. "I said keep your grades up and you can do it. He said OK, and he was really excited about it."
Dyllan also had a penchant for Stevie Wonder, his parents said.
"He would sit in his room for hours playing Stevie Wonder," his father said. "Anywhere he could play Stevie Wonder, he did."
Dyllan had no use for modern music, Warren said.
"He said mom, that's not music," she said. "He believed in the words. He said the words make sense. The words speak to your soul. That's what he used to say. That's just how he was."
Dyllan was part of the Eternal Life Christian Center's youth group, which, his father said, made an impact on his life.
"He came back from a youth camp with the Eternal Life Christian Center and said dad I'm going to be different," Otis Burrell said. "I said how, he said I can't tell you, you're just going to see."
"I feel like he reached a point where he felt like he was living his life for a different purpose," he said. "Dyllan was really good at telling you to calm down, handle situations this way because if you handle it that way, you're going to hurt this person's feelings, so handle it this way."
Dyllan was also remembered by one of his football coaches, Ottis Blount, who is also pastor of Greater Worship Kingdom Church in New Brunswick.
"There was nobody like Dyllan on the face of this earth," Blount told the crowd. "Dyllan happened to be one of the greatest kids that one person cold ever experience, one friend could ever have, one man could ever coach. Dyllan was impeccable. Dyllan was one of those kids that always kept a smile on his face."
"Dyllan is somewhere with that smile on his face right now," Blount said. "He's somewhere where there's no more trouble, there's no more pain, there's no more suffering, there's no more anguish. Dyllan is helping us get through this. One thing I understand is that God does all things well, and so we don't put question marks where God puts a period."
"However, we take that and we continue on with the sentence, because every last one of us has been touched by (Dyllan)," he said. "Everyone of us has been touched by Dyllan. Everyone of us has been touched by D. He was our boy, he was our friend, he was our homie, he was our coach, he was our brother, and this right here is the love that he would have had us to do."
Warren started a Facebook fundraising drive in hopes of raising $15,000 for Dyllan's funeral. As of May 12, the drive raised $39,128.
"I started this out because as a mother, we don't think that you put life insurance on a child, especially a child that is healthy, does a checkup every year, and they're fine," she said. "They don't show you any signs of illness. When this happened, it was shocking. We're like oh my god where are we going to get this money, we don't have the extra money."
"I was so grateful that there was a platform and just asked people who felt my pain and understand what we were gong through to help," she said. "Without Facebook and all the people who helped us, maybe I wouldn't be here right now because it would be too painful to know that we have a son and we can't even come up with the money to bury him."
Otis Burrell said that any money not used for Dyllan's funeral will go back into the community.
"Our plan is whatever the funeral doesn't cost,we're going to do a foundation or scholarship," he said. "Every penny of these people's money that they gave to our son will be put back into the community one way or the other."
"When we find out what actually happened to him, we can make sure it doesn't happen to another kid," Burrell said. "Or maybe there's a kid who wants to play a particular sport and they can't afford it, then that money can go back to that child to help him. We're going to think of different ways to memorialize his name."
"That's exactly what Dyllan would have said," Warren said. "Plenty of times we would go to a movie, and Dyllan would say, mom, before you waste money on popcorn, let's make a sandwich. And you say to yourself, which kid wants to go to the movie and not have popcorn?"
"Don't go crazy on me mom, just male sure everybody else is happy, that's the kind of kid he was," she said. "Once we're done with everything, we're happy to help any kid that needs help."
Here are scenes from the gathering: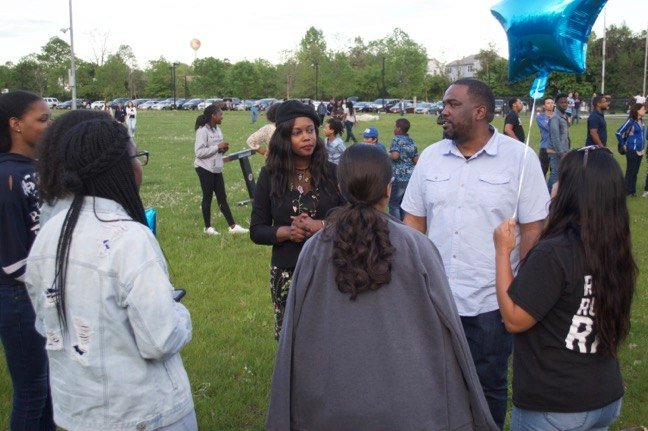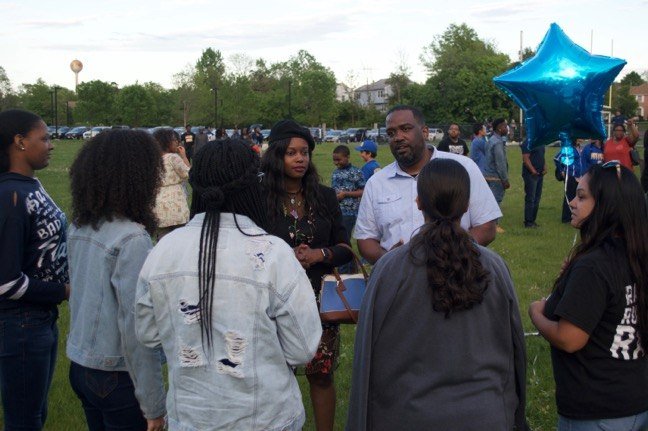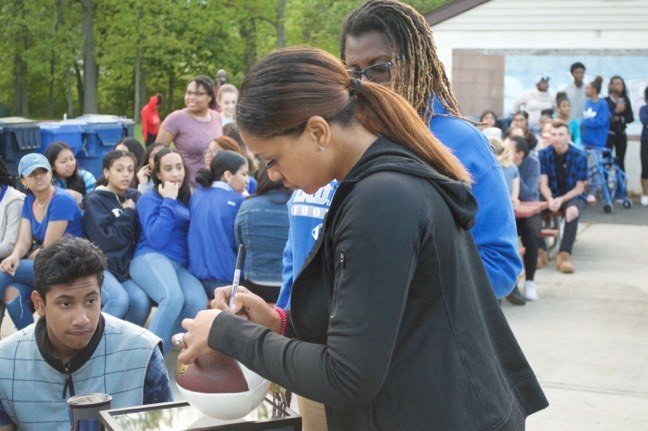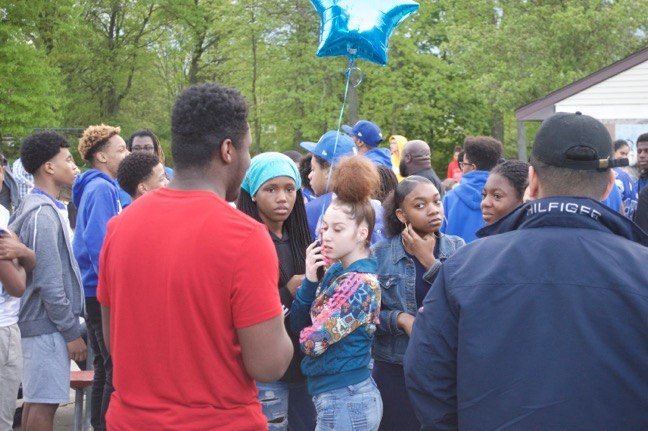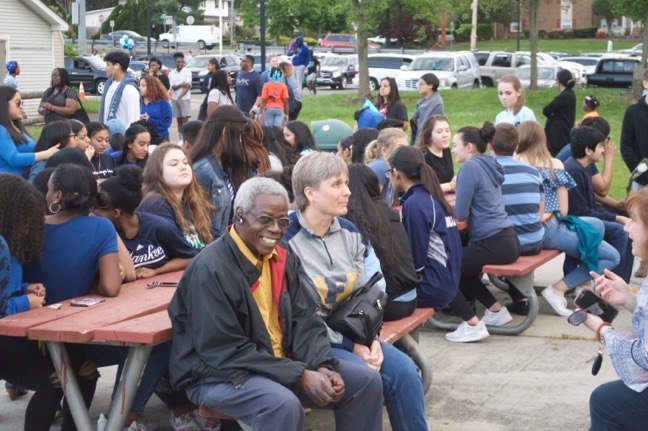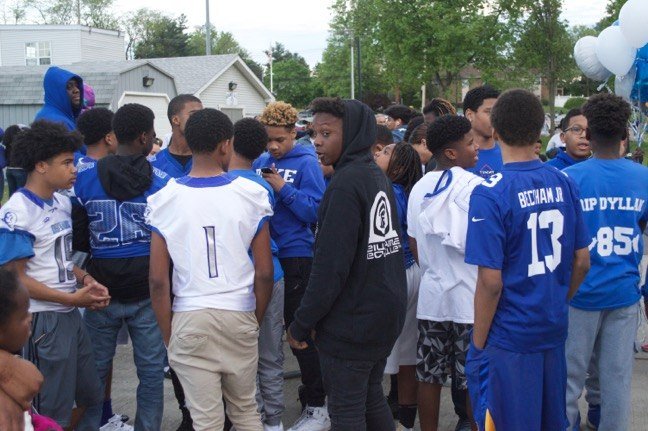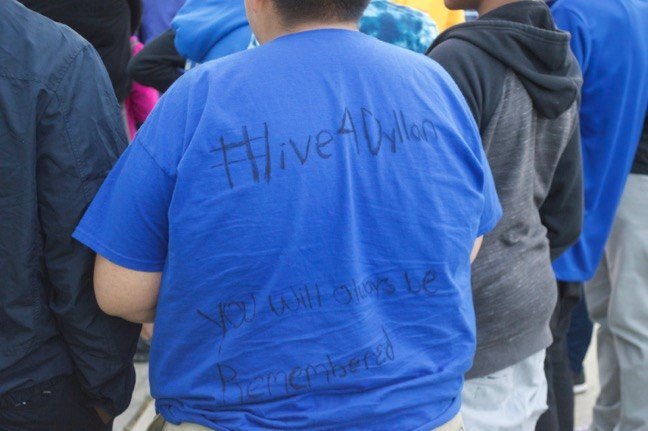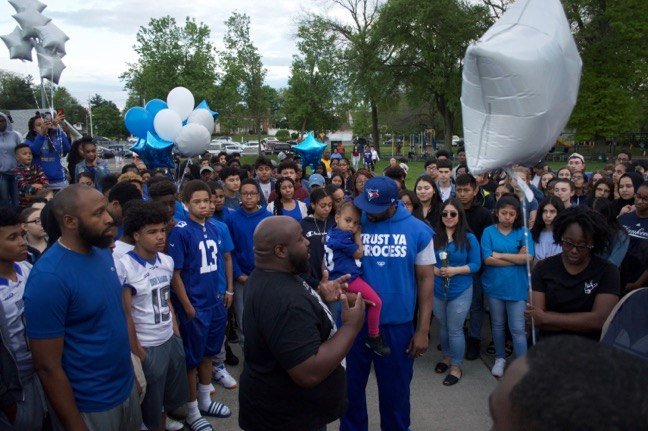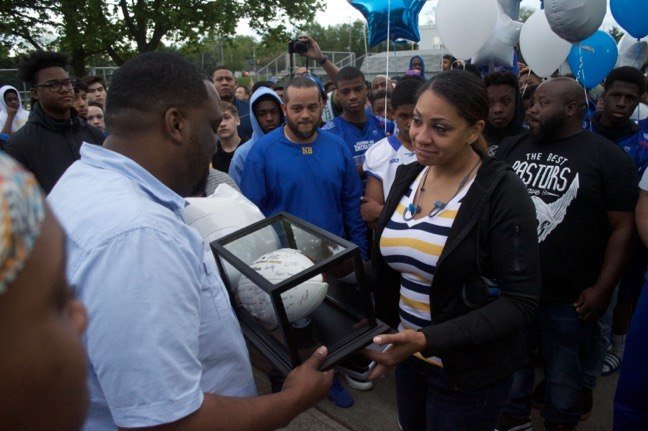 Your Thoughts
comments