Ducks Rally For 4 Runs In 9th To Beat Patriots 8-7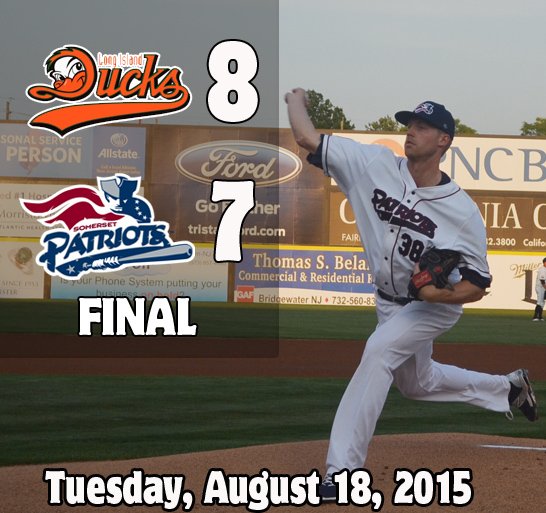 Bridgewater, NJ – The Long Island Ducks (20-18, 66-42) rallied past the Somerset Patriots (21-17, 71-37) 8-7 Tuesday evening at TD Bank Ballpark. The Ducks tallied four straight two out RBI singles in the top of the ninth inning to grab the lead and preserve the win.
In the top of the fourth inning shortstop Dan Lyons slugged a RBI double to give Long Island a 1-0 advantage.
Center fielder Delta Cleary Jr roped a RBI triple to expand the Ducks lead to 2-0 in the top of the fifth inning.
The Patriots exploded for six runs on five hits in the bottom of the fifth inning to take a 6-2 lead. Center fielder Ricky Claudio blooped a two RBI single and designated hitter Adam Donachie pounded a RBI single. Second baseman Nate Spears tallied an RBI on an error committed by the first baseman Steve McQuail then left fielder Aharon Eggleston sprayed a two RBI single.
Long Island cut the deficit in half in the ensuing half inning making the score 6-4. Designated hitter Cody Puckett ripped a RBI single while second baseman Ryan Gebhardt drew a bases loaded walk.
Third baseman David Vidal punched a RBI single in the bottom of the seventh inning to increase the Patriots lead to 7-4.
In the top of the ninth inning the Ducks catapulted in front to grab a 8-7 lead which would be the final. The Flock received RBI singles from third baseman Sean Burroughs, Puckett, pinch hitter Mike Blanke and catcher Nelfi Zapata.
Nick Struck earned the win (5-3) in relief. Jon Hunton blew the save and suffered the loss (2-4). Amalio Diaz notched his 9th save of the season throwing  perfect final inning.
The 2015 Somerset Patriots season presented by Ford will continue tomorrow night when the Somerset Patriots remain at TD Bank Ballpark for a 7:05 p.m. game against the Long Island Ducks. For tickets, call 908-252-0700 or visit www.somersetpatriots.com.
Your Thoughts
comments