County Democratic Black Caucus Holds Annual Awards Luncheon
Former teacher, two township residents among those honored
---
BRIDGEWATER – A former township teacher and two township residents were among those honored March 3 at the Somerset County Democratic Committee's Black Caucus's 3rd annual Scholarship Luncheon.
Niya Darby, a 2017 Franklin High School graduate and current freshman at North Carolina A&T, was one of two $500 scholarship winners.
Township resident Mabel Arinzeh – who with her husband Julius opened the first black-owned pharmacy in Somerset – was given the organization's "Unsung Hero" award, and Betty Hodges, a former teacher at Franklin middle and high schools was given the group's "Community Activist" award at the event, which was held at the Bridgewater Manor.
The featured event of the afternoon is the scholarship presentation. Tina Jalloh, the Black Caucus's chairperson, said the group wanted to give help to students who are already in college.
"We feel that there are a lot of scholarships out there for students graduating high school and getting into college," she said. "But once they're in college, people tend to forget about them and don't realize they have things they need.
The $500, she said "will at least buy a book or two and other things they need. That's what we want to do, we want them to know that there are people who are thinking about you and trying to help you out."
The scholarship is open to college students in their freshman through junior year. The application process process includes submitting a recommendation letter from a college teacher and writing an essay.
Darby was chosen for the award because "her resume was very impressive," Jalloh said. "She has done a lot of volunteering, a lot of work in the area, she has an excellent GPA and we're proud that we can honor her and give her support."
A number of factors come into play in making the decision of who gets the scholarship, Jalloh said.
"We look at somebody who has done volunteering in their neighborhood, who is looking at possibly a political career," she said. "We're looking for a solid GPA, but we're not necessarily looking for someone who has a 3.9 or 4.0 because there's a lot of money out there for those students."
"A 2.5 is fine as long as we know that you're going to be able to stay in school, and you're going to stay in school and you know what you're doing," she said. "Those are the kids who need more help than the 4.0s and the 3.5s, in my opinion."
Darby, who is looking toward a career as a filmmaker, said getting the scholarship "means everything to me, it's such an honor."
In accepting the honorary check, Darby told the more than 100 people in the audience that "I believe everyone in life has a purpose and nothing is done by chance. Somewhere it was written that I was born to be a leader.  I'm sure I have the capacity and the ability to make a difference in this world after graduating."
After the event, Darby said that her time at Franklin High School prepared her well for college.
"Franklin High School definitely prepared me as far as handling yourself in a professional manner," she said. "My English teachers really prepared me for college. I'm in a college English class and I just think it's a breeze.  Working hard pays off in the long run."
The film-making bug bit her while she took film classes with Michael Pinnix, Darby said.
"Mr. Pinnix at the high school taught you that if you have a vision, you can change the world, and that's just basically what I want to do," she said. "I'm good at film-making, I can edit, I can direct and I want to take what I learned in his program and just make a career out of it."
Hillsborough resident Brandon White, a junior at Columbia College, was awarded the group's second scholarship.
Arinzeh said her heroes are her four children, "four graduates, three MBAs."
A native of Nigeria, Arinzeh emigrated to the United States in 1974. She and her husband opened their pharmacy in the 1990s, and after it closed, she went into real estate.
Mayor Philip Kramer told Arinzeh that she would be receiving a commendation from him and the Township Council, and said he was "wowed" when he first met her three years ago.
"I met Mabel about tree years ago in her living room," he said. "She's amazing and I think the best testimony to her determination and her drive was she approached me and said I want you to come to this luncheon, the tickets are $60, you'll give us $100. And I did."
State Assemblyman Joe Danielsen (D-17) also presented Arinzeh with a proclamation from the state Legislature, as he did Hodges and North Plainfield resident Karen Thomas, who was presented with the Caucus's "Humanitarian Award."
Hodges spoke about increasing violence in schools, and dedicated her award to the students who are planning marches against gun violence on March 24.
"I challenge the churches, community organizations and parents to come together," she said.
"The state and national government are not protecting our children in universities and public schools," she said. "All of us have the responsibility to protect our children. You may not like my message today, the honor is really not about me, it's about what are we planning to do in this crisis of parents, grand-parents, community organizations and religious groups to protect our children."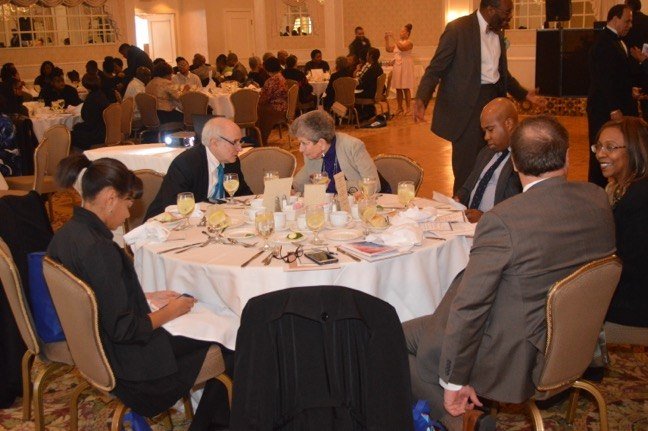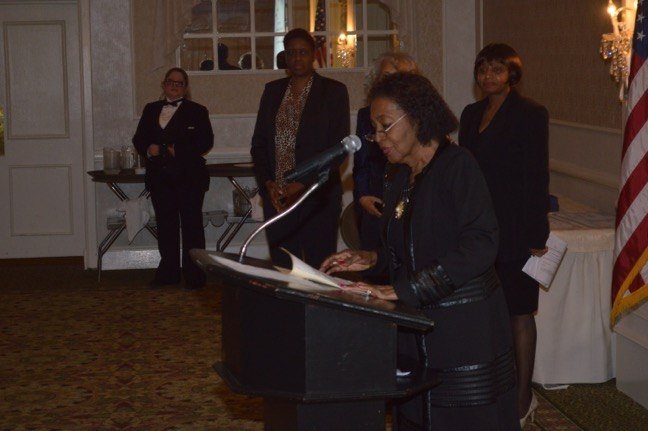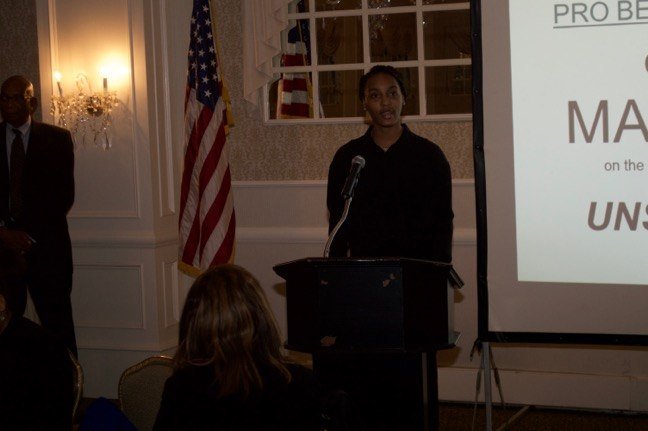 Your Thoughts
comments