Central Jersey College Prep Celebrates Blue Ribbon Award
---
Central Jersey College Prep Charter School threw itself a party on Nov. 29, one with national implications.
The school celebrated its inclusion in the 2016 class of National Blue Ribbon Schools, an award bestowed by the U.S. Department of Education.
School administrators, teachers, students, parents and local dignitaries watched a short video about the school, then listened to some selections from the school band and choir and reflections by two students, followed by tours and a lunch.
CJCPCS is one of 329 schools across the country to receive the Blue Ribbon designation this year, and the only New Jersey charter school to do so.
The school, said chief education officer Namik Sercan, is "on education's cutting edge," with a mission to "teach our children to be lifelong learners, wherever and whenever."
Even with this award, and the others the school has won in its 10 years of existence, Sercan said, "There is so much work to do ahead of us."
He said CJCP's students could "change the world."
"We're going to change it together," he said. "We're going to leave a peaceful world for generations to come."
In his comments, CJCP senior Reynaldo Perez said that he will be graduating form the school "with the knowledge and preparation for not only college, but for the real world."
Yasmine Ibraham a junior, told the assembled guests that being at CJCP "has allowed me to reach my highest potential."
In a letter sent to the school, Gov. Chris Christie said the award "highlights the astounding collective achievement, supportive instruction and quality programs that foster each child's maximum development and potential."
The school "has distinguished itself through its high standards of academic excellence," Christie wrote. "I commend all those who have invested in the unique talents and gifts of our future generation, and thank them for supporting an enriched learning environment that has demonstrated that all students can achieve success."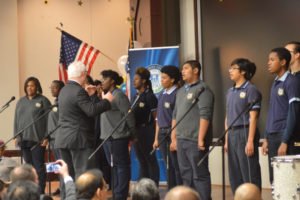 Roger Jinks, the interim Executive Superintendent of Somerset County schools, said he was "humbled" to be at the school for the ceremony.
"It's very difficult" to become a Blue Ribbon School, he said. "Congratulations, I'm truly speechless."
Katherine Czehut, the acting director of the state Department of Education's charter school division, said the award "says to me that this is a space that Central Jersey College Prep has created where everyone can rise to their true potential. It's really, really great to see."
Somerset County Freeholder Director Pat Walsh presented the school wit a citation from the Freeholders, commending CJCP for its award.
"Central Jersey College Prep has been one of the jewels of the county, and we are delighted," she said.
Your Thoughts
comments