Brett Jodie Named Atlantic League Manager Of The Year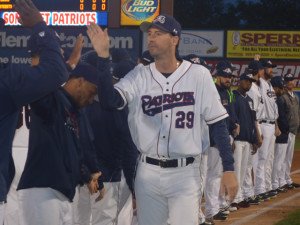 Bridgewater, NJ – The Atlantic League of Professional Baseball has announced that Brett Jodie has been named the Atlantic League's "Manager of the Year." Outfielder Aharon Eggleston and reliever Buddy Boshers were also honored by the league as the best players at their positions.
Jodie led the Somerset Patriots to the 2015 Atlantic League Championship after a league best 89-50 regular season that was one win shy of tying a franchise record. The trip to the playoffs was Somerset's third-straight under Jodie since he took over as manager in 2013. The championship was Jodie's first at the helm of the Somerset Patriots, having already won once as a player (2003) and twice as a coach (2008, 2009) with the team.
"It was a great year. Definitely one that I'll always remember. As a manager, you're only as good as the players and coaching staff that you work with. I've been very fortunate to be surrounded by great people in the clubhouse, but also the organization itself, led by Steve Kalafer and Patrick McVerry. I'm proud that this team was able to take the championship back home to Somerset and look forward to hopefully doing it all again in 2016," Jodie said.
Somerset won both the First and Second Half Liberty Division Championships and have now won four-straight Half Championships dating back to last season. The Patriots' First Half Championship featured an Atlantic League-record 50 wins in a half.
In addition, Jodie became the fastest manager in league history to win his 250th career game when the team defeated the Sugar Land Skeeters 4-2 on August 26th.
"Brett is as deserving of this award as anybody ever can be. He is a consummate professional on and off the field and truly represents the Patriots Way. I've heard players come through here that have played at all levels of professional baseball say that Brett is the best they've ever played for. That says a lot about the type of manager and person that he is. We are all very proud of Brett and the tremendous season he guided us through," said Patrick McVerry, President/General Manager of the Somerset Patriots Baseball Club.
Eggleston was an Atlantic League All-Star and helped lead Somerset's offense all season long. The third-year Patriot finished the regular season with a .289 batting average, 74 runs scored, 118 hits, 22 doubles, five home runs and 46 RBI in 112 games played.
Eggleston was even more clutch in the postseason. In the nine playoffs games, Eggleston hit .333 with two home run, three RBI, nine runs scored, eight hits, a double and seven walks.
Boshers was one of the toughest relievers in the league. He finished with a 1.00 ERA and 71 strikeouts in 54 innings pitched over 52 games.
The Atlantic League has named the 2015 End-of-Season All-Star team featuring the league's best players, according to the ballots of league executives and managers.
Bridgeport Bluefish OF Welington Dotel, who led the league in hits (180), triples (13), extra base hits (52), total bases (261), stolen bases (45), and slugging percentage (.492), was named Player of the Year.
The Long Island Ducks right-handed pitcher John Brownell was named Pitcher of the Year. Brownell finished in a tie with Somerset's Mickey Storey for the most wins this season (12) while striking out a league-high 146 batters this season, with a 3.38 ERA (5th best) and a 1.13 WHIP.
The End of Season All-Star Team includes:
Catcher                      Chris Wallace, Sugar Land Skeeters
First Base                  Andres Perez, York Revolution
Second Base*            Delwyn Young, Sugar Land Skeeters
Second Base*            Cody Puckett, Long Island Ducks
Third Base                 Bryan Pounds, York Revolution
Shortstop                   Dan Lyons, Long Island Ducks
Outfield                      Brian Cavazos-Galvez, Lancaster Barnstormers
Outfield                      Welington Dotel, Bridgeport Bluefish
Outfield                      Aharon Eggleston, Somerset Patriots
Designated Hitter      Sean Burroughs, Long Island Ducks/Bridgeport Bluefish
Starter                        John Brownell (RHP), Long Island Ducks
Reliever                      Buddy Boshers (LHP), Somerset Patriots
Closer                         Matt Gorgen (RHP), Camden Riversharks
*Tie
The Somerset Patriots won their Atlantic League leading sixth Championship during the 2015 season. The schedule for 2016 is currently in the works and will be announced in the coming weeks. For more information about the 2016 season, visit www.somersetpatriots.com.
Your Thoughts
comments