Brett Jodie Earns 100th Win As Patriots Manager
Bridgewater, NJ – On Saturday, May 10th, Brett Jodie registered his 100th career win as manager of the Somerset Patriots. With the milestone victory, Jodie became the fastest manager in Atlantic League history to reach the 100-win plateau. It took the second year skipper only 154 games to achieve this special feat.
"It's a humbling experience," the 37-year old Jodie said. "You are only as good as the great coaches we've had around here and the wonderful players that I've had the opportunity to share these wins with. I'm very appreciative. We all have a goal of coming to the ballpark with the ambition of winning a game."
Much of the groundwork for the accomplishment was laid last season when Jodie broke a rookie manager and franchise single season record of 90 wins.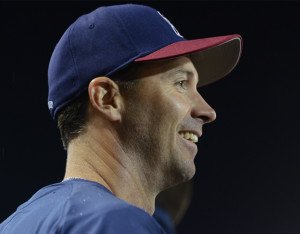 Since 2003, Jodie has had a variety of different roles for the Somerset Patriots. For a decade he had been either a player, Pitching Coach or Director of Player Personnel. In November of 2012 he was hired to replace the legendary Sparky Lyle as Lyle transitioned to Manager Emeritus. Jodie became only the second manager ever in Somerset history.
"I've been at a lot of different levels as a player and a coach," Jodie stated. "I've cherished every experience and learned a lot through the journey. I've grown so much as an individual. This is a challenging profession but it's so fun and rewarding. I enjoy the bonding in the locker room with the guys, hanging out with the Patriots front office staff, and having great fans to join us along for the ride."
After the game Patriots players and assistant coaches gave Jodie hugs and handshakes to show their gratitude. Closer and current Director of Player Personnel Jon Hunton presented Jodie the game ball.
"It was fitting Jon got the save," said Jodie. "He has been an integral part of our success bringing high character guys to Somerset and it was a classy gesture to hand me the ball. I remember Yunesky Sanchez gave me the ball after my first win so I'll probably put this ball right beside it."
The 2014 Somerset Patriots Season presented by Ford is underway with the Patriots currently in first place of the Liberty Division. For more information, or to purchase tickets, call (908) 252-0700 or visit www.somersetpatriots.com.
Your Thoughts
comments