Updated: August Opening Eyed For Colonial Park Spray Park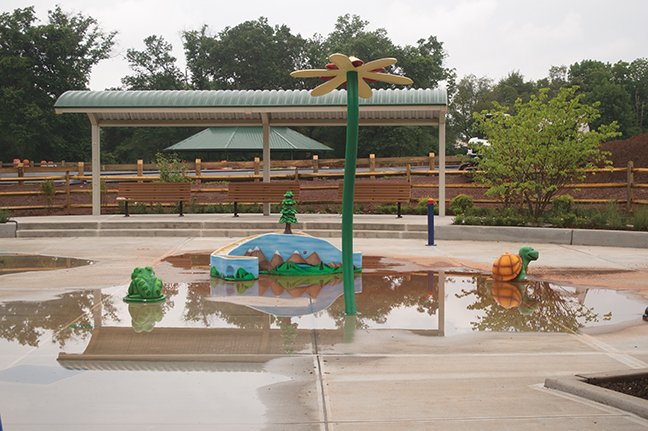 ---
Update: Somerset County Park Commission officials are waiting to receive the final state environmental approval before opening the spray park, which will delay the opening past the expected Aug. 1.
Construction on the spray park, located in Colonial Park, is expected to be finished on July 31, said Geoffrey Soriano, secretary-director of the park commission.
Soriano said that as soon as the B6 discharge permit from the state Department of Environmental Protection is received, staff will "dry-run" the park for a few days before it is opened to the public.
"Verbally, we've been told that it's approved, but I'd like the documents in hand before we start up operations," Soriano wrote in an email.
"There is a very bright (and wet) light at the end of this spray park tunnel," he wrote.
Original Story: August 1 is the hopeful opening day for the new Colonial Park Spray Park, a Somerset County Parks Commission member said.
The park's planned opening was delayed by about a year after permitting issues in 2018 and the need to switch contractors earlier this Spring.
The Spray Park, located next to the Morgan Pellowski Playground on Colonial Drive, will be open 10 a.m. to 7 p.m. seven days a week from Aug. 1 through Sept. 2, then from noon to 5 p.m. weekends only from Sept. 7-29, said Geoffrey Soriano, the Park Commission's Secretary-Director.
There will be no charge to use the park, he said.
Soriano said Aug. 1 is the Commission's wish-list date, but there are still some things that need to be done.
"Presently, the August 1st date is the Commission's most precise estimate, and we feel strongly that our anticipated timeline will be the reality," Soriano said in an email. "As a matter of caution, I must point out that there are necessary inspections and approvals that must be completed/received prior to an opening date."
"The Park Commission is anxious to flip the water switch, open the gate and allow our youngest Somerset County citizens to get wet, cool off, and have fun," he wrote.
The 6,500-square-foot park was planned to include more than 30 pieces of water-spraying equipment.
The Park Commission is looking for employees for the park. According to the announcement: Applicants must be 18 years of age or older and available to work various shifts including weekends and holidays.
Must possess strong communication skills, be reliable, and able to enforce rules and policies. First Aid/CPR/AED certification required.
Starting rate is $10.50 per hour. To apply call (908) 722-1200 ext. 5239 or email dmumgelter@scparks.org.


Your Thoughts
comments