LaHair's Late Home Run Leads Patriots To 5-3 Win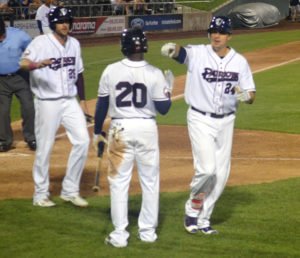 Bridgewater, NJ – The Somerset Patriots (30-22) defeated the York Revolution (29-23) 5-3 at TD Bank Ballpark on Wednesday evening.
Tied at 3-3 in the bottom of the seventh inning, Bryan LaHair launched a two-run blast (6) to right field to give Somerset what would ultimately be the 5-3 final.
"I'm just trying to keep the chain moving. Trying to have a quality at bat and get on base there to put [Brad] Snyder in scoring position," said LaHair. "I was just trying to do some damage really. I got a pitch I could handle and put a good swing on it."
LaHair went 3-for-3 with two runs, a double, a home run and three RBI in the game.
The Revolution took an early lead in the first inning off newly signed starter Alexis Candelario. After a leadoff double and a hit batter, Telvin Nash followed with an RBI single to make the score 1-0. Candelario struck out two and got a fly out to end the threat. He would go on to strikeout eight batters over five innings in his debut.
"I like to show my emotion in the game and the level of pitcher I am. I felt good. I worked my spots in the game. They have some good hitters so I had to be smart when facing those guys. They hit me sometimes because I missed some pitches, but I made the adjustments and did the job," said Candelario of his start.
Somerset answered in the bottom of the first inning on an RBI groundout by Eric Farris to tie the game 1-1.
York came right back with two unearned runs in the top of the second inning on an error that led to a 3-1 advantage.
The Patriots knotted the game up at 3-3 in the third inning on an RBI double by LaHair and a Trayvon Robinson RBI triple.
"I like what I saw in Alexis. He kept us in the ballgame and we were able to come back and score those runs in what seems like true Patriots fashion. There were a lot of big hits and good things happening with guys putting together some real good at bats," said Somerset Patriots manager Brett Jodie.
Brandon Sisk (1-2) picked up the win with a scoreless inning pitched. Micah Owings (2-3) took the loss, allowing two runs on two hits in two innings pitched. Jon Hunton closed out the ninth inning to earn his 12th save of the season.
The 2016 Somerset Patriots season presented by Ford continues at home on Thursday, June 16th with a 7:05 pm game against the York Revolution. For tickets, call 908-252-0700 or visit www.somersetpatriots.com. Download our Mobile App for free in the Apple or Android App store.
Your Thoughts
comments