Thousands Play In The Muck In Zarephath For MS Research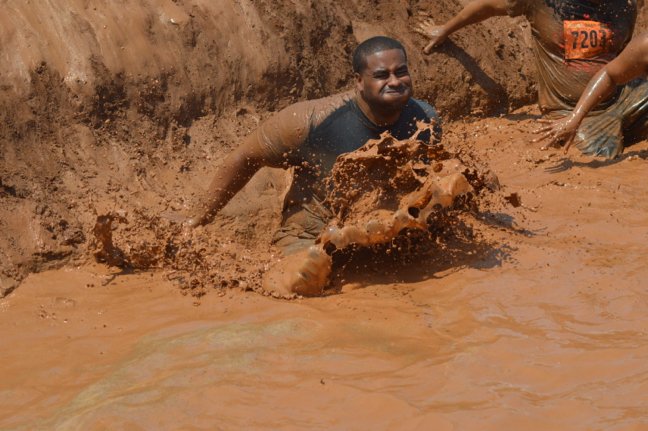 ---
About 3,000 people showed up at Zarephath July 27 to run in muck to raise money to defeat Multiple Sclerosis.
The event was the annual MuckFest, held in the fields surrounding Zarephath Christian Church to raise money for the Multiple Sclerosis Society via the society's New Jersey Metro Chapter. The event's primary sponsor was Horizon Blue Cross/Blue Shield of New Jersey.
The 5k course featured 18 obstacles, all dealing with water and mud. Waves of runners took off from the starting point every 20 minutes or so, beginning at 9 a.m. until nearly 1 p.m.
This event is not for the mud-averse. Runners approached the starting line by rolling through a huge mud puddle, then jumped into three more mud puddles – separated by mounds of muck that had to be climbed – before starting off on the larger course.
Attendees ran alone, in corporate teams, with their families and with their organizations.
The event in Zarephath was replicated this summer in four other places in the US: Boston, Philadelphia, Chicago and Denver.
The New Jersey MuckFest was supposed to have been run on July 20, but that weekend's abnormally high temperatures forced a postponement for a week.
Even with the delay, the muckers showed up. Little muckers, big muckers, mother muckers and father muckers all.
"This was an awesome turnout," said Tonya Hall, executive director of the society's New Jersey Metro Chapter.
"People were very understanding and very supportive, but most importantly they wanted to help us end MS forever, they're supportive of the mission, so they're here," she said.
"To date we've raised $32 million to help end MS forever," Hall said. "It's an opportunity for people who don't have MS or don't live with someone with MS, to feel what it's like, going through the obstacles and challenges that somebody faces in their day-to-day life."
This is the organization's second year in Zarephath, and Hall said that next year's date has already been booked.
Here are some scenes from the day:
Your Thoughts
comments