Teck Ready for His Forever Home
WANTED: A FOREVER HOME! This sweet guy is Teck and he loves people, especially those who lavish him with attention. He is around 9-10 years old, but don't let his age fool you…Teck is energetic and playful! He is a strong dog and can pull hard on his leash when he finds something that captures his interest. Teck is a gentle dog who is very polite when you give him treats. He would benefit from training, but he is attentive, patient, and eager to please. Teck is looking for a home where he can be the star of the show, without small children or other pets. If you think Teck might be the one for you, give the shelter a call!
COVID-19 PROTOCOL: Adoptions will be done by appointment only. If you see a pet you are interested in, please call the Franklin Township Animal Shelter at 732-873-2500 ext 6255 and leave a message with your name, phone number, and the name of the pet you are interested in. You must leave a message so that an appointment can be scheduled.
The adoption fee is $60 per pet with additional discounts available for adopting two animals together. All animals from the Franklin Township Animal Shelter are spayed/neutered, microchipped, and up-to-date on all age-appropriate shots prior to adoption. Cats have also been tested for feline leukemia and FIV.
---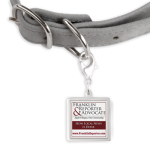 We have the perfect accessory for your new pet! A custom Franklin Reporter & Advocate pet tag! Click here for more information and to order! (Collar not included).
---
All information is supplied by the Franklin Animal Shelter, 475 DeMott Lane, Somerset, next to the municipal building. Shelter hours are 12-3 p.m., Tuesday through Friday and 12-6 p.m. Saturdays. The shelter phone number is (732) 873-2500, ext. 6255. They can also be reached by email at katie.nordhaus@twp.franklin.nj.us, and you may visit their Web site.
Your Thoughts
comments