Somerset Patriots To Host I Ask… Sexual Assault Awareness Night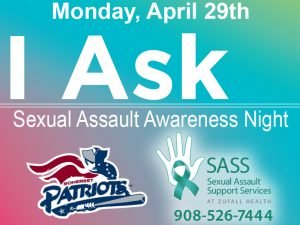 Bridgewater, NJ – The Somerset Patriots have teamed up with Sexual Assault Support Services (SASS) at Zufall Health, an organization of community health centers, to host I Ask…Sexual Assault Awareness Night at TD Bank Ballpark on Monday, April 29th for the 6:35 pm game against the High Point Rockers.
"We're excited for the opportunity to bring awareness to the community about the issue of sexual violence to both increase prevention efforts and ensure that anyone affected by sexual violence knows that they are not alone and knows where they can go to obtain support," said Eva Turbiner, President and Chief Executive officer of Zufall Health.
The event is designed to educate fans about the role of consent in the prevention of sexual assault. It's never too early to start educating about this important issue.
Representatives from SASS at Zufall Health (SASS is the designated sexual assault support service for Somerset County) will be on site to interact with fans, answering questions and providing information about their services and about consent. Printed information will also be available for parents on how to help teach children about consent.
The first 1,000 adults in attendance will receive an "I Ask" themed tote bag to commemorate April as Sexual Assault Awareness Month (SAAM). "I Ask" refers specifically to the issue of consent. "I Ask For Consent" is the distinguishing factor in whether sexual contact is consensual or an assault.
"We hope that people come away understanding the importance of consent as well as what to do if they have been assaulted at some point in their life and need support," Julie Krupinski, Zufall's Director of Sexual Assault Support Service, added. "We're grateful for the opportunity to partner with the Somerset Patriots to reach a large number of people with this important message."
Fans interested in participating can purchase their tickets by CLICKING HERE! Use Group Password: I Ask to purchase $10 upper box tickets to support the night. A portion of the sales will be donated to Sexual Assault Support Services and their programs to help sexual assault victims. This event is made possible through funding from the Department of Children and Families, Division on Women, Rape Prevention and Education (RPE) funding.
"We are happy to be a part of the conversation that brings about positive change on the issue of sexual assault," said Somerset Patriots President/General Manager Patrick McVerry. "Unfortunately sexual assaults are something that you seem to hear about a lot these days. We want to bring our community together at the ballpark and help make a difference in education, prevention, and tell people where to seek help when needed."
Sexual Assault Awareness Month (SAAM) originated in London in 1975 as a group of women with history of sexual assaults decided to "Take Back the Night" and the event quickly spread to the U.S. April later became recognized as SAAM and today sexual assault support agencies all over the country hold events to help bring awareness to the issue.
If you or someone you know is a victim of sexual assault and needs help, Sexual Assault Support Services offers a confidential 24-hour hotline (908) 526-7444 and counseling services to provide support. All SASS services are free of charge.
The Somerset Patriots will be back in action on Friday, April 26th for Opening Day at TD Bank Ballpark. Stay up to date on all the team news throughout the offseason online; on all of our social media platforms, and on our mobile app. For more information, visit www.somersetpatriots.com.
About Zufall Health:
Zufall Health is an award-winning, nonprofit, state-licensed community health center that has been providing high-quality, affordable medical and dental treatment to the working poor, the uninsured, and the underserved for 29 years. Nearly 40,000 patients are served at its headquarters site in Dover as well as medical and dental offices in Somerville, Flemington, Morristown, Hackettstown, Newton, and West Orange, and on its Highlands Health Van and Zufall Health Delta Dental Mobile. For more information, visit zufallhealth.org.
About the Atlantic League of Professional Baseball (ALPB)
With eight teams in the Mid-Atlantic and Texas, the ALPB is a leader in baseball innovation and a player gateway to Major League Baseball. Through its exclusive partnership with MLB, the Atlantic League tests Major League Baseball rules and equipment initiatives. The Atlantic League has sent over 900 players to MLB organizations while drawing more than 40 million fans to its affordable, family-friendly ballparks throughout its 22-year history. For more information, please visit www.AtlanticLeague.com
For more information, please visit www.atlanticleague.com.
Your Thoughts
comments