Somerset Patriots Looking For Lead Sparkee Performer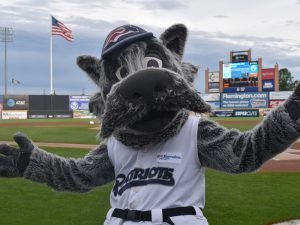 Bridgewater, NJ – The Somerset Patriots are looking for individuals interested in performing as the lead performer of team mascot Sparkee for games this upcoming season. Sparkee is the #1 entertainment role at the ballpark for the 70+ games each year.
The Patriots are looking for creative, energetic and talented performers to be Sparkee for the 2018 season. The mascot's responsibilities include performing at games, representing the team in the community and at various off-site functions, fan-friendly interaction with children and adults, and other duties assigned by Patriots management.
The ideal applicant for the position should have strong interpersonal skills, be self-motivated, creative, and have the ability to perform in front of large crowds. Previous experience as a mascot or performer helps, but not required. The Patriots are looking for individuals who are 17 years or older and candidates must be able to provide their own transportation.
This position has not been available for the past eight seasons and is preferred to have a top performer in the role for as many games as possible.
"Sparkee is a very important part of fans' experience and entertainment at our games," said Patrick McVerry, President/ General Manager of the Somerset Patriots. "In addition to performing at the ballpark, Sparkee appears at hundreds of events to represent us throughout the community. We are looking for special performers that will enjoy being Sparkee and also bring joy with his or her performance."
Interested Candidates can Apply Here!
The Somerset Patriots led the Atlantic League in attendance and made their 14th appearance in the playoffs last season. The Somerset Patriots will welcome their 7,000,000th fan in their 20th season at TD Bank Ballpark in 2018. Opening Day is set for Friday, April 27th. For more information about the 2018 Season presented by Ford, please visit www.somersetpatriots.com.
Your Thoughts
comments