Somerset Patriots And Spearhead Staffing Name Nick Morgan As Kid CEO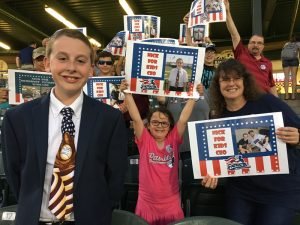 Bridgewater, NJ- The Somerset Patriots and Spearhead Staffing have hired Nick Morgan of Piscataway as the 2018 Kid CEO.
"I was so excited when I found out, I couldn't believe it. It's finally coming true," said Morgan, who was also a finalist last season for the position. "Last year was so close. This year I came back and really tried my best and it showed."
Morgan, a 14-year old who will be going into his freshman year at Piscataway High School in September, was announced as the Kid CEO during the Thursday, June 28th game at TD Bank Ballpark.
He participated in his final interview on the field before the game with the other five finalists selected from interviews conducted by Spearhead Staffing at the team's annual Fan Fest at TD Bank Ballpark in early April.
"Every single year the finalists seem to raise the bar and get better and better," said Spearhead Staffing President Doug Bryson. "The kids come more prepared. At first the participants would show up with the applications, now they show up with full-blown resumes. It's just amazing what these kids can do."
Nick was a straight-A student in all honors classes at Conackamack Middle School before his recent graduation. One of his favorite subjects is language arts because he feels it helps broaden his writing and speaking skills when discussing baseball and statistics. He feels that being chosen as the Kid CEO will be a great introduction to how the ballpark operates behind the scenes.
As the Kid CEO, Morgan will follow front office staff members during the games to learn about ticketing, merchandising, promotions, media, marketing, and ballpark operations. He will sit in on Patriots staff meetings and write about the experiences he has in the position. Morgan will also receive a personalized Somerset Patriots jersey, tickets to five games, a ceremonial first pitch for a game, and a meet and greet with Sparky Lyle and the players.
"I think everything about this is amazing," exclaimed Morgan. "I will be able to learn so much about one of my favorite teams and be able to follow around people that I look up to and can learn from."
Nick plays baseball, runs cross-country track, and has played the trumpet for the past five years. Baseball is his passion and he hopes to one day work in the industry, particularly as a broadcaster. His favorite MLB team is the New York Yankees and collects thousands of baseball cards. When he is not watching baseball on TV, helping out his sister's T-Ball team, or watching Somerset Patriots Baseball, Nick enjoys playing Fortnite and MLB The Show on his PlayStation.
Morgan becomes the eighth Kid CEO in team history.
"Nick is a 14-year old professional. The kid is ready to jump in and do whatever he can at the ballpark and it's just great to see him live out a dream here," Bryson added. "We can definitely learn from these kids. It is important to continue to work at whatever it is you are trying to do and be very persistent. The other main thing is to be prepared. Nick showed up with a suit and tie and shiny shoes. He obviously worked every question he was asked and put his heart into it."
Spearhead Staffing is Somerset County's award-winning IT staffing and recruiting company specializing in the Life Sciences, Financial Services, Hospital and Healthcare industries. Spearhead Staffing consistently sources technology professionals that combine years of technical experience with industry knowledge and certified training. Utilizing their proven RightHire Recruiting Process, Spearhead Staffing reduces the risk associated with hiring by identifying the best person to match each company's culture and environment.
Your Thoughts
comments