Skeeters Top Patriots 10-7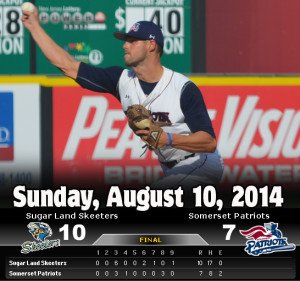 Bridgewater, NJ – The Sugar Land Skeeters (18-13, 56-44) defeated the Somerset Patriots (20-12, 67-35) 10-7 Sunday evening from TD Bank Ballpark.
In the top of the third inning the Skeeters plated six runs to take a 6-0 advantage. Catcher Travis Scott and third baseman Michael Rockett each pounded two RBI doubles. Designated hitter Nick Stavinoha socked a RBI double while right fielder Neil Medchill blooped a RBI single.
Somerset cut the deficit in half in the ensuing half inning making the contest 6-3. Designated hitter Daryle Ward stroked a RBI single, third baseman Corey Smith hit a RBI groundout and left fielder Ty Wright clubbed a RBI sacrifice fly.
Catcher Kevin Kotch blasted a home run (1) to make the score 6-4 in the bottom of the fourth inning.
Stavinoha smacked a two run home run (14) in the top of the sixth inning to increase the Skeeters lead to 8-4.
Sugar Land added a run in the top of the seventh inning as left fielder Ryan Langerhans sprayed a RBI single to up the score to 9-4.
The Patriots scored three times in the bottom of the eighth inning to cut the deficit to 9-7. Pitcher Jared Wells threw two wild pitches that led to runs and shortstop Scott Kelly brought home a run via a RBI fielder's choice.
Sugar Land scored a run via a wild pitch hurled by Cory Harrilchak in the top of the ninth inning to increase the lead to 10-7.
Andrew Johnston (1-0) earned the win tossing 1.2 innings of relief work. David Harden (1-1) sustained the loss allowing six runs in 2.2 innings of work. Gary Majewski notched the five out save (20).
The 2014 Somerset Patriots season presented by Ford will continue Monday, August 11th when the Patriots are home at TD Bank Ballpark for an 11:05 a.m. game against the Sugar Land Skeeters. For tickets, call (908) 252-0700 or visit www.somersetpatriots.com.
Your Thoughts
comments