RWJ Somerset Athletic Trainer Phil Lee Returns To Somerset Patriots
Bridgewater, NJ- The Somerset Patriots and RWJ Somerset have announced that Phil Lee will return as the team's official athletic trainer for the 2018 season.
"I had a great time in my first year with Somerset last season," said Lee. "I cannot wait for the team to return and for us to get started."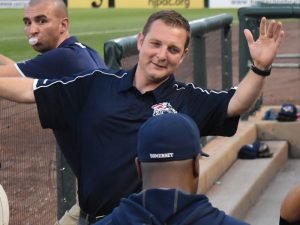 Lee enters his second season as the athletic trainer of the Somerset Patriots. As the athletic trainer, Lee oversaw the daily health and fitness of the entire team and coaching staff. His responsibilities ranged from on-site injury treatment, to injury-prevention warm-ups, performance-enhancing workouts and stretching routines, along with nutritional advice.
The Ontario, Canada native is a certified athletic trainer and Performance Fitness coach with RWJ Somerset Sports Physical Therapy & Performance Center. He is now also in his second season with RWJBarnabas Health, the official healthcare provider of the Somerset Patriots. Lee graduated in 2014 from East Stroudsburg University with his B.S. in Athletic Training, and is a certified Strength and Conditioning Specialist.
Lee has previous work experience in the Philadelphia Phillies and Milwaukee Brewers organizations. He also spent time with the New Jersey Devils. Lee has worked professionally in sports in a variety of capacities since 2006 and brings a lot of experience to the Patriots.
RWJBarnabas Health is an official athletic training partner with the Patriots as well as 10 regional school districts and Rutgers University Athletics. For more information on RWJBH's athletic services, visit www.rwjbh.org/athletictraining.
The Sports Physical Therapy & Performance Center, located within TD Bank Ballpark, provides Physical Therapy and Performance Fitness solutions for the local community. Helping you get back in the game with rehab for sport, work and life, Sports Physical Therapy provides sports-injury and orthopedic rehabilitation for all ages. If fitness is your goal as an adult or an athlete, experience the attention and results of small group fitness and performance coaching! Move better, feel stronger, accomplish more – together, with Performance Fitness!
The Somerset Patriots led the Atlantic League in attendance and made their 14th appearance in the playoffs last season. The Somerset Patriots will welcome their 7,000,000th fan in their 20th season at TD Bank Ballpark in 2018.  Tickets are now on sale for the 2018 Season presented by Ford beginning at home on Friday, April 27th. For more information, please visit www.somersetpatriots.com.
About The Atlantic League of Professional Baseball (ALPB)
The Atlantic League has been a leader in professional baseball and a gateway to Major League Baseball since 1998. Over 38 million fans have attended Atlantic League games and more than 900 players and 50 managers and coaches have joined MLB organizations directly from the ALPB. The Atlantic League emphasizes winning baseball games, showcasing the talent of top-caliber players and offering affordable family entertainment.
For more information, please visit www.atlanticleague.com.
Your Thoughts
comments