Patriots Walk Off With 15-inning Win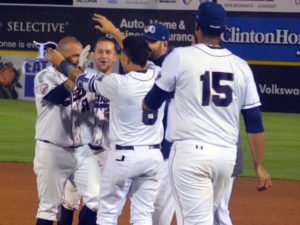 Bridgewater, NJ – The Somerset Patriots (37-32) defeated the Bridgeport Bluefish (30-39) 8-7 in 15 innings before 7,271 fans at TD Bank Ballpark on Saturday evening.
The walk off hit came off the bat of Aharon Eggleston to centerfield to end the game.
Trailing 7-4 in the ninth inning, the Patriots scored three runs to tie up the game. Mycal Jones led off with a solo home run  (3). After an Eggleston double, Eric Farris drove him home with a single. David Vidal then tied up the game with an RBI double.
The Bluefish jumped out to a 5-0 lead in the top of the second inning. Jose Gil hit an RBI double, Anthony Giasanti followed with a two-run double, and Luis Hernandez's RBI double were on three consecutive at bats. The fifth run came home on an RBI single by Luis Nunez.
Somerset rallied for three runs in the third inning on an RBI double by Eggleston followed by a two-run home run by Vidal (6). It was Vidal's third homer of the home stand.
Bridgeport added a run to the lead in the fifth inning on a sacrifice fly by Jose Cuevas that doubled up the Patriots 6-3.
The Patriots made it a 6-4 game in the sixth inning on a groundout by Vinny Zarrillo.
The Bluefish scored their final run on an Angelys Nina home run (1) in the top of the ninth inning for a 7-4 lead.
Recently added Bryce Morrow (1-0) picked up the win for the Patriots. Jose Cuevas (0-1) took the loss for Bridgeport.
"We gave up that big inning, but it was good to see our hitters come back," said Somerset Patriots manager Brett Jodie. "We had some nice innings, especially that ninth inning where hit some balls hard. We had opportunities to threaten later, but didn't come through until that 15th inning. It was just good to come back and come away with the win."
The 2016 Somerset Patriots season presented by Ford continues at home on Sunday, July 3rd with a 7:05 pm game against the Bridgeport Bluefish. The game features FIREWORKS and a Patriotic Jersey Auction presented by Operation Shoebox New Jersey. For tickets, call 908-252-0700 or visit www.somersetpatriots.com. Download our Mobile App for free in the Apple or Android App store.
Your Thoughts
comments