Patriots Power Past Blue Crabs 7-5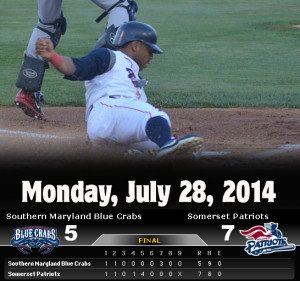 Bridgewater, NJ – The Somerset Patriots (10-9, 56-32) defeated the Southern Maryland Blue Crabs (10-9, 39-50) 7-5 Monday evening from TD Bank Ballpark.
In the top of the first inning first baseman Luke Murton smacked a RBI single to give Southern Maryland an early 1-0 advantage.
The Patriots tied the contest at 1-1 in the home half of the first inning as second baseman Jeff Dominguez poked a RBI single.
Shortstop Bobby Stevens pounded a RBI triple in the top of the second inning as the Blue Crabs grabbed a 2-1 lead.
Catcher Adam Donachie belted a home run (7) to even the score at 2-2 in the bottom of the second inning.
Somerset took the lead in the bottom of the fourth frame as third baseman Corey Smith slugged a home run (10) to make the score 3-2.
The Patriots plated four runs in the bottom of the fifth inning to expand their lead to 7-2. First baseman Daryle Ward cranked a three run home run (2) while right fielder Luis Montanez tallied a RBI double.
The Blue Crabs scratched across three runs in the top of the seventh inning to cut the deficit to 7-5. Stevens sliced a RBI single while third baseman Angel Chavez and center fielder Jermaine Mitchell recorded RBI groundouts.
Gary Moran (9-3) earned the win tossing six innings while allowing five runs. Gaby Hernandez (4-7) endured the loss surrendering seven runs and giving up three home runs. Jon Hunton notched his Atlantic League leading 30th save pitching a scoreless ninth inning.
The 2014 Somerset Patriots season presented by Ford will continue tomorrow morning when the Patriots are home at TD Bank Ballpark for an 11:05 a.m. game against the Southern Maryland Blue Crabs. For tickets, call (908) 252-0700 or visit www.somersetpatriots.com.
Your Thoughts
comments