Patriots Need Extra Innings, But Remain Perfect For Start Of Season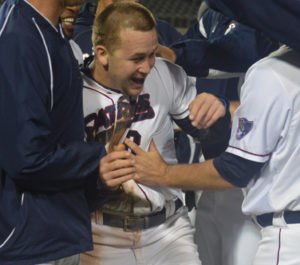 Bridgewater, NJ- The Somerset Patriots defeated the York Revolution 4-3 in 11 innings at TD Bank Ballpark on Wednesday evening to improve to 7-0 to start the 2016 season.
Scott Kelly led off the bottom of the 11th inning with a single, stole second, and moved to third after two walks loaded the bases. With Trayvon Robinson at the plate, a wild pitch on a 2-2 count allowed Kelly score for the walk off win.
"We felt good about [Scott Kelly's] chances getting on there and getting himself into scoring position," said Somerset Patriots manager Brett Jodie. "We stayed aggressive and he took the bag to have a better chance to score. Our guys had a lot of great at-bats, not just in the 11th inning, but late in the game. We stayed patient and passed it along to the next guy like we've been doing all season so far."
Trailing 3-0 in the eighth inning, the Patriots rallied for three runs to tie up the game. Kelly led off the inning with a walk, advanced to second on a wild pitch, and came around to score on an RBI single by Darwin Perez. After a base hit by Yovan Gonzalez, another wild pitch allowed both runners to advance. Trayvon Robinson then plated Perez with an RBI groundout and Gonzalez scored on a base hit by Eric Farris.
The Revolution took a 1-0 lead in the first inning on a solo home run by Josh Wilson (1).
York extended the lead with a run on an RBI double by Andres Perez in the top of the fourth inning.
The final run of the game came in the eighth inning on an RBI single by Jason Repko that gave the Revolution a 3-0 advantage.
Mike Thomas (2-0) earned the win for Somerset with three strikeouts over two scoreless innings. Daniel Carela (0-1) suffered the loss, allowing a run in 0.1 innings pitched.
"If we can keep it within distance, our offense is like a time bomb that's just waiting to go off. When they get to their second and third at bats of the game and start seeing pitches, it can come along pretty quick. We know if we just go out there and do our jobs, they are going to hit," Thomas said.
Patriots starter Mickey Storey allowed two runs and four hits in six innings for a no-decision.
Kelly finished 2-for-3 with two runs scored in Somerset's fourth come from behind win of the season.
The 2016 Somerset Patriots Season presented by Ford continues on the road in Lancaster until Tuesday, May 3rd when the Patriots return to TD Bank Ballpark for a 7:05 pm game against the Southern Maryland Blue Crabs. For tickets visit www.somersetpatriots.com.
Your Thoughts
comments