Patriots Hammer Blue Crabs 10-2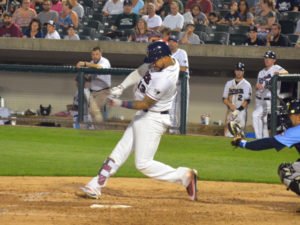 Bridgewater, NJ – The Somerset Patriots (18-17, 56-49) defeated the Southern Maryland Blue Crabs (14-20, 40-64) 10-2 on Friday evening at TD Bank Ballpark.
The Patriots jumped out in front with three runs in the bottom of the first inning. After Aharon Eggleston reached on a single, David Vidal clubbed his 18th home run of the season. Bryan LaHair then singled and came home to score on an RBI single by Carlos Guzman.
"My teammates are lining me up in a position where I need to come up big. All I'm doing is trying to get good pitches and put good swings on them," said Guzman.
The Blue Crabs cut the lead to one run with a two-run home run by Alfredo Marte (8) in the second inning.
Guzman added to the lead with an RBI single in the bottom of the third inning to make the score 4-2.
Somerset extended their advantage with four more runs in the bottom of the fifth inning, highlighted by a three-run blast by Kyle Roller (2).
"I'm just trying to get something up and over the plate. Something elevated and just do my job to get at least a sacrifice fly. Luckily I was able to get enough of it to get it out and get us some runs," said Roller.
Scott Kelly later plated a run with a single in the same inning for an 8-2 lead. Kelly finished the game 4-for-4 with an RBI.
"It was nice just to contribute to the team. Luckily the ball found some holes and everyone else caught fire in the lineup and produced to get the win," Kelly said.
Guzman struck again in the bottom of the seventh inning with a solo shot (9) to put Somerset up 9-2. A bases loaded walk drawn by Eggleston made it the 10-2 final.
Nik Turley (2-0) allowed two earned runs on three hits and four strikeouts in five innings pitched. Tim Sexson (2-7) suffered the loss, allowing eight earned runs on 12 hits in 4.2 innings pitched.
"This game was huge. It keeps us rolling," Guzman added. "We played good baseball on the road so coming here and getting that first win at home is key."
The 2016 Somerset Patriots season presented by Ford continues at home with a 7:05 pm game on Saturday night against the Southern Maryland Blue Crabs. The game includes a Post-Game Fireworks Show presented by Robert Wood Johnson University Hospital, T-Shirts presented by Bill Leary A/C and Heating, and Spider-Man Night. For tickets, call 908-252-0700 or visit www.somersetpatriots.com. Download our Mobile App for free in the Apple or Android App store.
Your Thoughts
comments