Patriots And Blue Crabs Split Double Header
Waldorf, MD – The Somerset Patriots (2-1) and Southern Maryland Blue Crabs (1-2) split a doubleheader from Regency Furniture Stadium Sunday afternoon.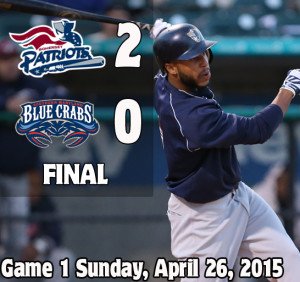 Game One:
The Somerset Patriots blanked the Southern Maryland Blue Crabs 2-0 in Game One of the doubleheader from Regency Furniture Stadium.
In the top of the seventh inning third baseman Greg Hopkins pounded a two run home run (1) to deep left field to give Somerset a 2-0 advantage.
Daniel Sattler (1-0) earned the victory in relief. Trey Barham (0-1) sustained the loss in relief. Kyler Newby notched the save (1) pitching a scoreless final frame.
Game Two: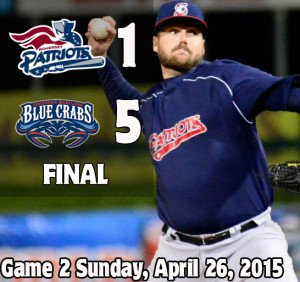 The Southern Maryland Blue Crabs topped the Somerset Patriots 5-1 in Game Two of the doubleheader from Regency Furniture Stadium.
In the bottom of the fourth inning shortstop Robert Andino committed a two out error that led to two unearned runs as the Blue Crabs grabbed a 2-0 lead.
Southern Maryland plated three more runs in the home half of the fifth inning to increase their lead to 5-0. Right fielder Fred Lewis roped a RBI single, second baseman Jake Opitz socked a RBI double and another run crossed home via a wild pitch hurled by pitcher T.J. Chism.
First baseman Chris Marrero ripped a RBI double in the top of the sixth inning to cut the deficit to 5-1.
Gaby Hernandez earned the win tossing six innings of one run baseball. Randy Boone sustained the loss allowing five runs in 4.1 innings of work.
The 2015 Somerset Patriots season presented by Ford will continue on the road until Friday, May 1st when the Patriots return to TD Bank Ballpark for a 7:05 p.m. game against the York Revolution. For tickets, call 908-252-0700 or visit www.somersetpatriots.com.
Your Thoughts
comments