Paint Fun Studio Students Win National, International Awards
Students at Paint Fun Studio in Franklin Park have been making their mark on the national and international art worlds.
Students recently won awards in a German art competition, a national aviation art competition, an international peace art competition and have had their work appear in national consumer and art magazines.
Taffy Chan won first place in the BMW Berlin Marathon in Germany, an international art competition. Chan's piece was one of 200 honorees picked from 1,500 entries.
Nilufar Rahman, Paint Fun Studio's owner and instructor, traveled to Germany to pick up the prize on Chan's behalf.
"Receiving this International award on my student's behalf, in front of all the people from all over the world, was very exciting," she said. "Taffy Chen's painting represented the USA proudly by getting the first prize honor. Her artwork is being printed on T-shirts, hats and post cards for BMW Berlin Marathon. I am proud of Taffy's accomplishment."
The art of two other Paint Fun students, Saher Kaur and Nitya Pandit, was also displayed in the Berlin Marathon.
"Being selected in this 200 was a great honor," Rahman said.
Ashvika Bandaru, a 9th Grader who has been studying at Paint Fun since the 5th Grade, is a National 3rd Place winner in the 2018 Aviation Art Contest. The contest's theme was "Flight Into The Future."
Maitreyi Mehta  won an "Honorable Mention" in Grade 1-3 category for the international "Radiant Peace International" Art competition.
"Children all over the world from 1st to 12th grade have participated in it," she said of the competition. "Getting an Honorable Mention award in this huge International competition is a great deal. We are proud of Maitreyi!"
Kindergartener Nishey Malik won second prize for "Humpty Dumpty" magazine. resulting in his art work printed on the cover of the magazine. Nishey has been taking art lessons from Franklin Montessori school and Paint Fun Studio for a year.
"We are proud of our little artist Nishey," Rahman said.
Rav Kaur, Savir Nangia, Ashvika Bandaru, Alya Saha, Chase Patel, Vinuta Ramakrishnan, Esha Hasrajani, Nikhil Ambavarm, Aesha Patel, Azima Bora, Vinav Navin, Justin Hopkins, and Bilal Hasan had their artwork published in the Spring 2018 art book "Celebrating Art."
"It is an honor to be invited, to publish in this national art book, as the selection process is very hard to go through among thousands of artworks nationwide," she said. "This publication brings together the best student artists in America."
"I just know a lot more young artists from Paint Fun Studio will be winning the national and international art competitions in the near future," she said. "Good luck to everybody to the future art competitions! When it comes to Art, the Sky is the Limit! Paint Fun Studio is shooting for that and making all the children ready to fly in the journey of life!"
Paint Fun Studio is located on Route 27 in Franklin Park, next to TD Bank.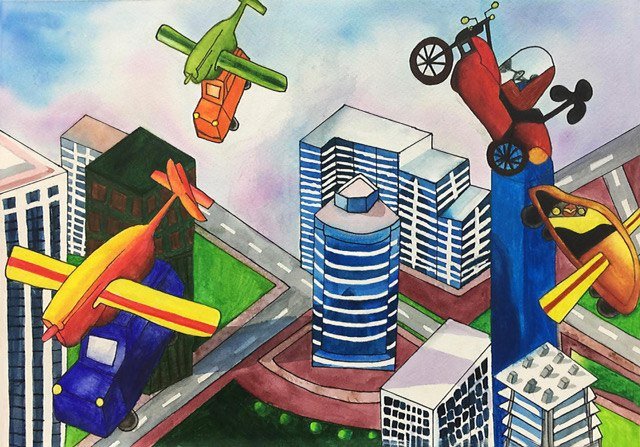 Your Thoughts
comments