Life Story: Wilhelmina Goldwire; Employed By Postal Service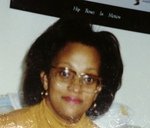 Mrs. Wilhelmina Goldwire passed away peacefully on Dec. 5 at St. Peter's University Hospital in New Brunswick.
Wilhelmina 'Red' was born in Whiteville, North Carolina and lived for a time in Jersey City prior to moving to Somerset in 1990. She earned her college degree from Phoenix University and was employed for many years as a Postal Handler for the United States Postal Service.
She was preceded in death by her parents Roosevelt and Dorothy Paige, her Grandparents: Robert L and Geneva Little, Aunts: Lois Gilyard, Shirley Gaines and Mildred Little, Uncles: Danny Ross and Willis Carnell Little.
Wilhelmina was one of 3 children, she is survived by her beloved brothers Roosevelt Fitzgerald Paige and Ronald (Vanessa) Paige.
Wilhelmina married Willie O. Goldwire, March 1991. Their 27 year union produced two beautiful beloved children: Chelsea B. Goldwire and Jonathan A. Goldwire. beloved children by marriage: Josette Johnson (Mark), Willie Goldwire III, Isan Goldwire (Itssia), Abdul Goldwire (Ivette) Solomon Goldwire (Nicole) and
Wilhelmina was known by her family as Red, also 'Big Red', Mom, Sis, Cuz, Aunt, Niece and the best friend you could have.
She was compassionate, a great listener, kind, humble, smart, strong, generous with a great sense of humor and although small in size had a huge heart. She enjoyed spending time with family especially her beloved cousin Sybil (Gary) North Brunswick, NJ. She loved her husband, son and daughter very much. Her voice and face would light up when she talked about her family. Her family and friends will miss her very much.
Wilhelmina 'Red' leaves to cherish the many wonderful memories her loving husband, Daughters, Sons, Brothers,
Beloved Aunts: Barbara Allen-Newark, NJ, Annie Washer-Whiteville, NJ, Pauline Morrison-Las Vegas, NV and her beloved uncle Robert Little, Jr., nieces, nephews, many cousins, grandchildren and many friends.
Visiting will be held on Dec. 11 from 10:30-11:30AM at the Gleason Funeral Home, 1360 Hamilton St., followed by a funeral service at 11:30 at the funeral home. Burial will follow after the service at Cedar Grove Cemetery.
Your Thoughts
comments