Life Story: James Carter, 88; Avid Outdoorsman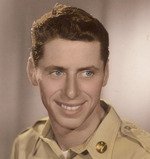 James L. Carter, 88, passed away April 28, 2019 at his home in Somerset while surrounded by his loving family.
Mr. Carter was born November 20, 1930 in Oster Bay, NY, the son of Herman and Emily Carter. He lived in Somerset for many decades.
James was a loving husband, father, and business professional, who provided a stable and nurturing home for his family. He served honorably in the United States Army and was a veteran of the Korean War. He was the co-owner of the New Brunswick and North Brunswick Pork Stores, and later served as a security officer at Rutgers University prior to retirement. He was an avid outdoorsman with a passion for hunting and fishing. He was also a longtime parishioner at St. Matthias in Somerset. Above all, James cherished spending time with his beloved wife and family, while tending to his home "plantation."
Mr. Carter was predeceased by his parents; sister Violet; brother William; and most especially, his beloved wife of 68 years, Dolores. He is survived by his sons, James, and Jeff and wife Diane of Somerset; his daughters, Gail Rotondo and husband Frank of Brick, Dolores Bunker and husband Robert of Peculiar, MO, Deborah Nelson and husband Kenneth of Somerset, Christine Shalton and husband Michael of Melbourne, FL, Theresa Hoagland and husband Jeff of Franklin (Warren County), and Judy Moy and husband Gregory of Laurel, MD; his many grandchildren and great-grandchildren; his brother Robert; and many nieces and nephews.
Family and friends may visit from 9-10 a.m. May 1 at the Gleason Funeral Home, 1360 Hamilton St.
Funeral Mass will begin at 10:30 a.m May 1 at St. Matthias Church in Somerset. Committal Service will follow at Resurrection Cemetery in Piscataway.
In lieu of flowers, please consider donations to the American Heart Association at www.heart.org or the American Lung Association at www.lung.org.
Your Thoughts
comments