Life Story: Francis Dennis Almeida; Softball Umpire, Little League Coach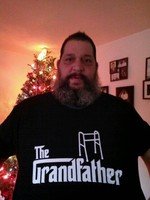 Dennis Almeida passed away early Friday at St. Peters University hospital in New Brunswick at the age of 57.
Dennis was born in Brooklyn but lived for many years in Franklin Township. He was a longtime member of the Laborers Local 77. Dennis was an avid sports fan who always made sure to bet on his Mets or take a chance on the Jets. He played and umpired softball for most of his life and never missed a chance to coach his twin boys in little league. He had a quick wit and if you knew him you were guaranteed to share a laugh when crossing paths. He will be missed by many.
Dennis was predeceased by his father Francis in 1986.
Dennis is survived by his wife of 30 years, Susan Mattaliano Almeida of Somerset; their children, Ashley Grosso and her husband Alex of Long Valley, Lisa Almeida, Laura Almeida and her fiance Kenny Barbato, Frank Almeida and Sal Almeida and his girlfriend Katlin Gagliardi, all of Somerset; his mother, Marie Almeida of Pennsylvania; his siblings, Karen Collier Malone and her husband Patrick of Somerset, Marie Almeida of Pennsylvania, Stephanie Putman and her husband Troy of North Carolina and Anthony Almeida and his wife LeAnn of Florida, as well as many nieces and nephews. Dennis is also survived by his two favorites, his 2-year-old grandson Anthony Grosso and his faithful dog Roxie.
A blessing will take place at 11:30 a.m. on Dec. 20 at the Gleason Funeral Home, 1360 Hamilton St. Please arrive by 11:15 a.m. A committal service at Franklin Memorial Park in North Brunswick will follow. The family will greet visitors at the funeral home on Monday from 4-8 p.m. and on Tuesday from 10:30 a.m. until the time of service.
Your Thoughts
comments