Life Story: Eva Delagdo, 94; Native Of Puerto Rico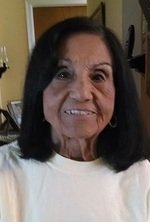 Mrs. Eva Delgado passed away on Jan. 10 at her home with her loving family at her side. She was 94 years old.
Mrs. Delgado was born in Ceiba, Puerto Rico on January 1, 1924. She moved to New York City in 1946 and has resided in North Brunswick, New Jersey since 1965.
She retired from E.R. Squibb in New Brunswick in 1989 after 15 years working as a Line Inspector. She was a parishioner of Our Lady of Mount Carmel Church in New Brunswick and an active member of both the Daughters of Mary and the South Brunswick Senior Citizens Club.
She enjoyed crocheting, dancing, traveling and was a marvelous cook. Nothing was more meaningful to her than her family.
She was pre-deceased by a son, Alfredo Carreras; two sisters, Maria Lima, Ana Lima, and a granddaughter, Daisy Carreras.
Mrs. Delgado is survived by her loving husband of 67 years, Mr. Manuel Delgado Sr. of North Brunswick and their three children, Daisy Mistretta and her husband Vito of South Brunswick, and their children Marissa and Antonio; Manny Delgado Jr. and his wife Jan of Mount Holly and their children Mark and Eric; and Elaine Sotack and her husband Nicholas of Virginia and their three children, Jennifer, Nicholas Jr. and Michael. She is also survived by her brother Felipe Lima, sister Mercedes Lima, numerous nieces and nephews; additional grandchildren Edwin, Eva, Brenda, Elaine; six great-grandchildren and three great-great-grandchildren.
Visitation will be held from 2-4 and 7-9 p.m. on Jan. 15. Funeral services will begin at 9:15 a.m. Jan. 16 at the Gleason Funeral Home, 1360 Hamilton St., Somerset, followed by a 10 a.m. Mass at Our Lady of Mount Carmel Church in New Brunswick.
Entombment will follow at Franklin Memorial Park.
In lieu of flowers, contributions can be made in Mrs. Delgado's name to the Alzheimer's Association at www.alz.org.
Your Thoughts
comments