Life Story: Dorothy Leigh Jones, 92; Native Of Baltimore, Md.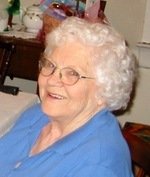 Dorothy Leigh died peacefully in the presence of her daughter on May 4, 2017 at Parker McCarrick Care Center in Somerset. She was 92 years old.
She was born in Baltimore, Md., but her early years were spent with her grandparents in Floyd County, Va.
In her early teens she moved to Aberdeen, Md. to live with her mother, Anna Simmons and sister Ella Mae, while she attended Aberdeen High School.
While just a high school girl she met the love of her life, Harold Jones. They married and had four children: Harold Fred, Jr., Judith Colleen, Gary Stephen, and Michael Allen. They were together happily for 58 years.
Given the nature of Harold's job as a successful industrial equipment salesman, they moved a number of times during their marriage and lived in Maryland, Pennsylvania, Colorado, and Virginia. The family enjoyed vacations together and Dorothy particularly loved the special trips she took with her husband to Switzerland and Hawaii.
Peachie, as they liked to call her, had six grandchildren: Summer Blanchard, Heather Logan, Michael Maupin, Samantha McGovern, Schuyler Jones, and Hunter Jones. She was also blessed with six great-grandchildren: Dylan Blanchard, and Alexis, Connor, Jadyn, and Cason Logan. She was further thrilled to recently welcome a great-great-grandchild, Vincent McGovern.
After her husband's stroke in 1973 Dot (as Harold called her) moved back to Aberdeen where she devoted her life to caring for him. During this time she enjoyed the company of her sister, mother, and particularly the tremendous help of her nephews, Patrick, Richard, and David Holub.
She will be dearly missed by all who knew and loved her.
Your Thoughts
comments