Life Story: Dominic Fama, 97; Word War II Veteran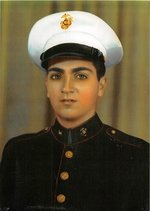 Dominic Fama died Saturday, August 11 at his home. He was 97.
Born in Rossiter, Pennsylvania, as a young man he worked in his family store, the Francis Coal Mines and the railroad.
Joining the Marine Corps in 1943, he was stationed in Paris Island, Camp Pendleton and Hilo, Hawaii. Dominic became a corporal and saw action on the Island of Iwo Jima. His duties included carrying flame throwers to the front lines, retrieving the wounded and scouting. After the war he settled in North Brunswick, where he met and married his beloved wife, Rose.
Prior to his retirement Dominic worked in Chicopee Manufacturing Company for 20 years. He also worked for Fama's Nursery after his retirement.
He was a communicant of St. Mary of Mount Virgin Church Roman Catholic Church in New Brunswick.
Dominic found great delight in gardening, raising pigeons, chickens and rabbits. He loved nature and charmed a wild rabbit to come into the yard where he was able to feed her by hand. He enjoyed building things with wood making numerous birdhouses and tables as well as being a big fan of baseball, horse racing and country music. He took great pleasure in visiting his hometown of Rossiter and Orlando, Florida with his family.
Dominic Fama is predeceased by 4 sisters and 3 brother.
Dominic is survived by his wife of 64 years, Rose Arico Fama; his children Mary Ann Fama of North Brunswick and Catherine Fama of Somerset; Schena our cherished family pet; two sisters Josephine Estes of Bay Shore, NY and Santa LaMantia of Edison, NJ; a brother Samuel Fama of Mickelton, NJ and many nieces and nephews.
Family and friends may visit at Gleason Funeral Home, 1360 Hamilton Street, Somerset, NJ 08873 on Thursday, August 16th from 4:00 P.M. to 7:00 P.M.
Funeral mass will be held Friday, August 17th at 10:30 A.M. at St. Matthias Church in Somerset. Interment will follow at Franklin Memorial Park in North Brunswick.
Your Thoughts
comments