Life Story: Ajayi Ojo, 70; United Nations Chef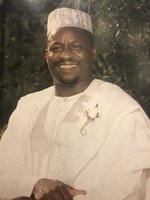 Mr. Ajayi Ojo passed away on Nov. 11 at Robert Wood Johnson University Hospital in New Brunswick. He was 70 years old.
Mr. Ojo was born in Nigeria and lived for a time in Paris before coming to the United States. He lived in Tarrytown, NY prior to moving to Somerset about 15 years ago. He was a member of the Yoruba Tribe of Nigeria and deeply loved his heritage. He was employed for nearly 40 years as a Chef of Nigerian Cuisine for the United Nations in New York City. He fed Presidents, 8 different Nigerian Ambassadors, Generals and other heads of state at the Nigeria House in New York and a recipient of the Nigerian National Honour Award.
He was pre-deceased by his parents, Amos and Rachel Ojo. He is survived by his wife of 26 years, Helen Ojo of Somerset along with his many siblings Oni Florence Onifade, Bosede Rachel Ayodele, Samuel Oluwatayo, Aina Ajisafe Ojo, Idowu Michael Oluwatayo, Adunola Adebiyi Ojo, and Aina Ojo. He is also survived by his mother in law Ivy Seewai, sister and brother in laws Gloria Arthur, Franka Seewai, Emily Seewai, Michael Seewai, Sherry Gill, and Camille Seewai along with many nieces and nephews.
Visiting will be held at the Gleason Funeral Home from 7-9 p.m. Nov. 16. Services will continue at the funeral home at 10 a.m. Nov. 17 and a 10:30 a.m. funeral mass will follow at St. Matthias Church in Somerset.
Committal services will follow at Franklin Memorial Park in North Brunswick.
Your Thoughts
comments