Lady Warriors Pound Perth Amboy 83-14 In First Round Of North II Group IV Tournament
---
The top-ranked Lady Warriors cruised to victory over Perth Amboy Feb. 25 in the first round of the North II Group IV tournament, 83-14.
The Lady Warriors scored 51 points before the Panthers were able to get on the board with 34 seconds left in the first half.
All five Franklin starters were back on the bench in the second quarter, with the Lady Warriors leading 45-0.
National All-Star Diamond Miller started off the second half with a layup, then seconds later fed Keona Schenck for another, giving Franklin a 55-2 lead.
The Lady Warriors ran the score to 64-2 before the Panthers put up three, bringing the score to 64-5.
By the end of the third quarter, the Lady Warriors were up 68-10.
The Lady Warriors outscored the Panthers 15-4 in the fourth quarter.
Coach Audrey Taylor, who did not leave her chair once during the game, said the thing she liked most about the team's performance was how they shared the ball.
"Caring about one another," she said. "We wanted everybody to score once we were in that situation, so we were doing things to try to get people open."
"For me the fact that they care about each other enough to want to get everybody involved and still cheering the girls on who were on the court, that's family and that's all I care about," Taylor said. "As long as we all are respectful and we treat each other good and we want each other to do well, then we're going to be fine."
The bench got more playing time than they did all year, and Taylor said they did well.
"I thought Ky (Kyierah Dempsey-Toney) came in and had some great moves," she said. "Some jump shots we got knocked down. The girls were shooting pretty well today."
Taylor said that she tells her players that in situations where a blowout is evident, they should stay respectful.
"It's just be respectful, be humble," she said. "You have to be. I mean, what are you going to do, come out and embarrass them and do silly stuff? No, it's be respectful, be humble for where you are."
That message was echoed by senior Tiana Joy Jackson.
"You just have to stay composed," she said. "You know you're going against a lower-level team, it's just not getting cocky. Basically you don't want to embarrass them. You want to play to your level, but do it in a humble way."
"We came out here and did what we had to do, and the bench players were able to come in and do their thing," Jackson said. "It felt good. We can try new things that we want to work on that we might not be able to work on in a higher-level game. It was a good team win, always."
Senior Diamond Miller said the team stays focused by "keeping the eye on the prize."
"We're still looking at the bigger picture, not just the game ahead," she said. "We're looking at the trophy we really want to get."
As fir her not getting up from her chair during the game, Taylor said, "This wasn't one of those games where they needed my energy, needed me to coach them through it. So I got a chance to sit and relax."
The Lady Warriors take on Hunterdon Central, who squeaked past Bridgewater-Raritan 34-33, on Feb. 27.
Here are some scenes from the game: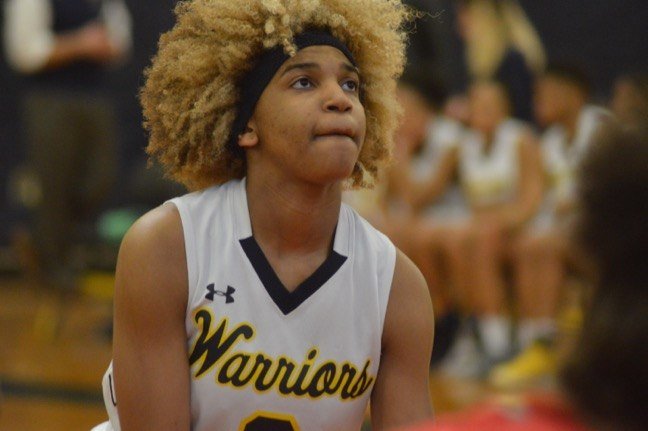 Your Thoughts
comments