FTHS Sports: Lady Warriors Cruise To 72-40 Win In State Sectionals' First Round (With Gallery)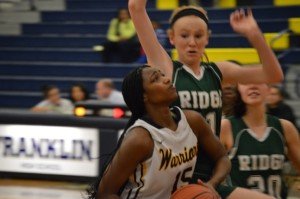 Franklin High School girls' basketball coach Audrey Taylor said the teams' game plan March 4 against Ridge High School was to "press them early cause some chaos and try to get the ball so we could get some easy points."
And did they ever.
The Lady Warriors put up 11 points before Ridge had its first bucket on their way to a 72-40 blowout in the first round of the NJSIAA Group II sectionals.
Franklin's game was highlighted by multiple steals and converting those steals into points.
It looked as though the Warriors felt they had something to prove after their Somerset County championship loss to Gill St. Bernard's on March 1.
"What you saw here was the girls after a loss," Taylor said. "There's a sense of redemption."
"We don't like to lose," she said. "It's almost like we came out here to redeem ourselves."
The Warriors ended the first quarter leading 20-5, extending that lead to 41-13 at the half.
Any hopes Ridge may have had that Franklin had tired itself out in the first half were quickly dashed in the third quarter.
Ridge showed some life during the period, but Franklin still increased its lead to 55-22.
Ridge barely outscored Franklin in the fourth quarter, 18-17, mainly on the strength of several 3-pointers.
"They all shot comfortably," Taylor said. "They didn't hesitate. When they play comfortably, they're great to see."
Taylor also praised the Warriors' fans who turned out in great numbers, and stayed loud for most of the game.
"I can't say enough about how great it is to see them come out," she said, noting that this is the best fan turnout in her four years of coaching.
"It's awesome," Taylor said.
Girls' Basketball vs Ridge 3-4-14
Your Thoughts
comments