Jean Ambrose, 83; Teacher, College Administrator, Activist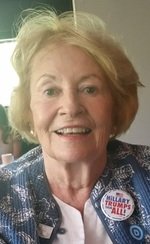 Jean L. Ambrose (nee LoTruglio) of Somerset, New Jersey, 83, died on September 19 at the Center for Hope Hospice in Scotch Plains.
Jean was born in Jamaica, New York and attended schools in Freeport and Baldwin on Long Island. She was a graduate of New Jersey College for Women (now Douglass Residential College) of Rutgers University in 1954, of Teachers College, Columbia University in 1955 and of Rutgers Law School in 1981, and was a member of the New Jersey Bar.
When her children were young Jean was active in the Parent Teacher Organization (PTO) of Westfield and was president of the Grant School PTO from 1966-1971. She held several positions in the Girl Scouts of America, including Troop Leader and Troop Organizer. Active in the early second wave feminist movement in New Jersey, Jean served as chair of the Education Task Force of the New Jersey chapter of the National Organization for Women. In that capacity she challenged policies and procedures that disadvantaged women and girls in the public schools of New Jersey, which challenge resulted in the integration of girls and boys in shop and cooking classes, and the establishment of additional sports for girls, including interscholastic sports. Jean also exposed the differential funding of Boy Scouts and Girl Scouts by the United Way of Union County.
Jean was a consultant to the New Jersey Education Association (NJEA) and the Office of Equal Opportunity in the NJ State Department of Education during which time in the early 70's she traveled the State speaking on equal opportunity in K-12 education.
She taught in the high schools in North Bellmore, Long Island and Needham, Massachusetts before her children were born and at Union County College in the early 70's. As her children grew Jean began to pursue a career in university administration at Rutgers University assuming, in 1973, the position of Assistant to the Dean at Douglass College, then the women's college from which she had graduated. She spent the rest of her work life at Rutgers: Assistant Dean at the College of Nursing in Newark, then Associate Dean of the Graduate School-Newark and, in 1986, Assistant Vice President for Faculty Affairs in central administration in New Brunswick. At Rutgers she was co-chair of the Women's Caucus in the late 70's.
A Master Gardener of Middlesex County, Jean attended classes at the New Jersey Agricultural Experiment Station at Rutgers for many years in pursuit of her interests in various aspects of horticulture. In the early 2000's she was appointed to the Historic Preservation Advisory Commission and later, to the Shade Tree Commission, both in Franklin Township.
Jean was an outsized personality and made a lasting impression on those she met. She will be greatly missed.
She is survived by a brother, Peter, and sister-in-law, Judy, in Clover, S.C. and children Carolyn of Somerset and her husband, Andre Gittens; Christopher of Lorton, VA and his wife, Deborah; Peter of Brooklyn, NY and Veronica of Montclair; and by granddaughters Shannon and Amanda Ambrose.
A memorial service may be held on the Douglass College campus at a later date.
Your Thoughts
comments