Hundreds Attend Franklin Food Bank's 'Gathering For Groceries'
---
Hundreds of Franklin Food Bank supporters gathered July 16 at the Palace at Somerset Park for the organization's annual "Gathering for Groceries."
The event was the second half of a two-pronged fundraiser, the first being "Golf for Groceries," held earlier in the day at the Royce Brook Golf Club in Hillsborough.
The day-long event is the food bank's largest fundraiser of the season, according to food bank officials.
The event at The Palace featured a buffet dinner, 50/50 and a silent gift basket auction.
The night's highlight was the naming of the food bank's first "Community Neighbor Award," which was given to Mark Blackwell, manager of the Rutgers Plaza Stop and Shop on Easton Avenue.
Blackwell thanked his company for giving him the time to "give back" to the community.
"I put substantial time and energy in giving back not only to the community that I work in but the community that I live in," he said. "I truly feel we all have an obligation to give back to our communities."
"The Franklin Food bank relies on so many different people, players and roles, all of whom play an important part in making sure the ship is sailing in the right direction."
"I'm blessed to be able to work for a great company," he said. "Our company encourages us and provides is with the time and the resources to help many organizations like the food bank within the communities that we serve."
"We know what a difference we can make when we all work together," Blackwell said. "Tonight is a perfect example of that."
Food Bank executive director Frank Hasner told the crowd that the organization later in the year will move to a new facility on Churchill Avenue, and also plans to try a new way of delivering food to their clients.
"We are looking to try to have people choose their own food," Hasner said. "Within a few months, we will be trying a pilot program to have people pick out their own food. If you don't like rice and beans, you can do pasta and sauce. If you don't like pasta and sauce, you can do peanut butter and jelly. People will be able to pick out their food, just like we do."
Hasner said that the food bank also wants to expand the base of the people it serves.
"We're located in the northern end of town, and we have statistics that show there's a very big need throughout the town," he said. "So we will be looking at starting a pilot program to do some distribution in our southern end."
The evening's emcee, Bill Grippo, principal of the MacAfee Road Elementary School, spoke of the effects of hunger, especially on children.
"Children who receive poor diets are more susceptible to delayed developmental language, motor skills cognitivity," he said. "They're also at higher risk of chronic illness. They're more likely to be hospitalized."
"We don't let our children be hungry, some people just can't help it," Grippo said. "It is stressful to be hungry and it is stressful to go into a food bank."
The Franklin Reporter & Advocate live-streamed interviews with Food bank officials and Blackwell before the evening began:
Here are some scenes from the dinner: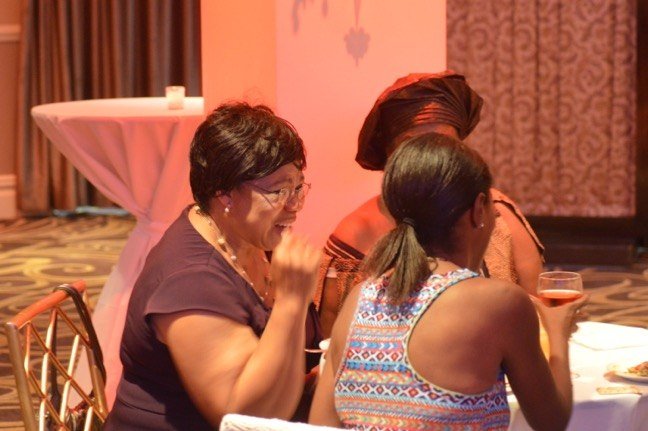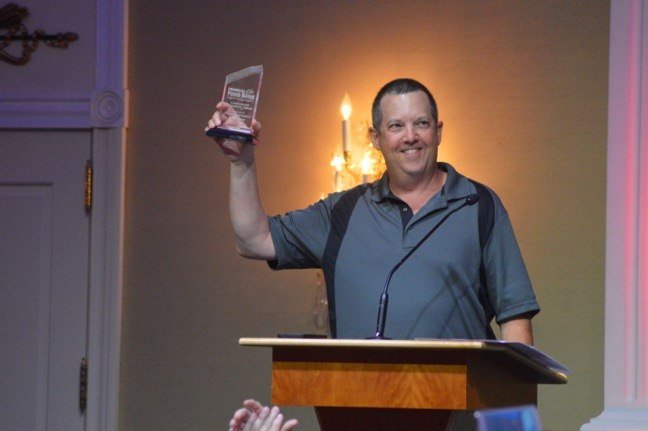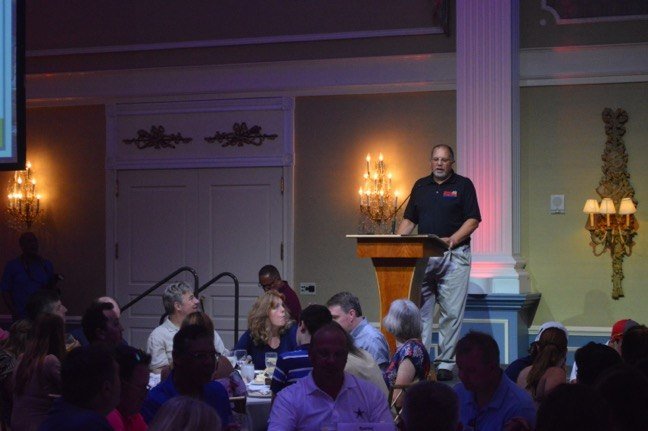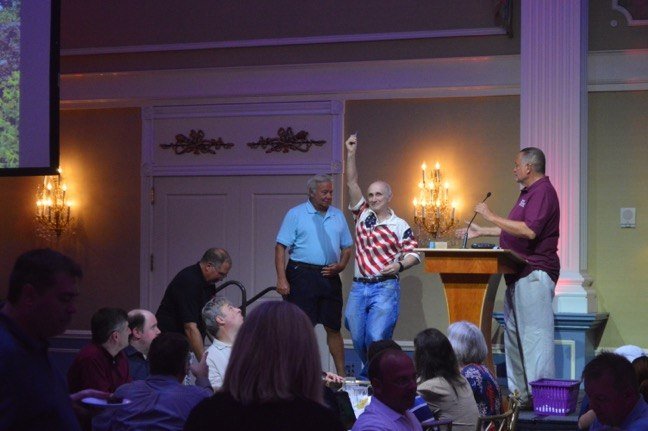 Your Thoughts
comments