FTPD, PBA 154 Thank 3rd Grader For Donation With Surprise Party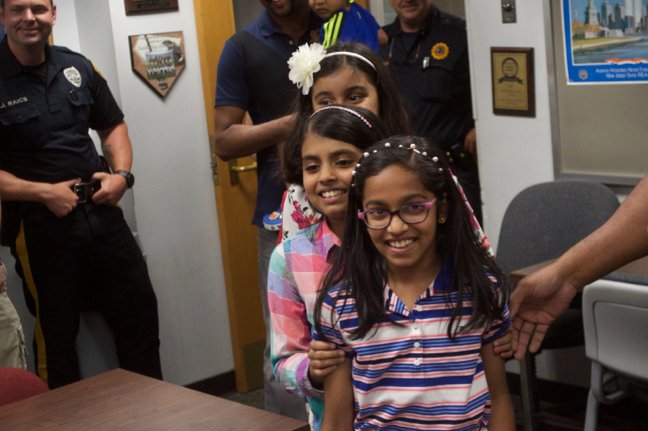 ---
As far as 9-year-old Meghna Sakar knew, she, her parents, brother and some friends were visiting the township Police Department June 5 for a private tour.
The tour had been arranged by FTPD Chief Richard Grammar, as a way to say "Thank-You" to the 3rd Grader for raising $300 for the department's Bullet Proof Vest Fund.
But what was waiting for Meghna was far more: A full-on surprise birthday party, compliments of members of the FTPD PBA Local 154.
The PBA members supplied decorations, pizza, an ice cream cake and ice cream favors for the party, as their way of thanking Meghna for her generosity.
FTPD Ptl. Larry Booker Jr. provided a rendition of "Happy Birthday" on his bagpipes, in full regalia.
"We thought it was amazing that Meghna thought about us," said the FTPD PBA's Det. Mark Keller. "Instead of getting gifts for herself, she would tell her family and friends to give money to get us a bullet-proof vest."
"I think it's amazing that such a young lady would think about us like that," he said. "We had to do a birthday party for her, there were no ifs, ands or buts about it."
"I thank you from the bottom of my heart, and all the officers here want to wish you a Happy Birthday for the wonderful thing you did for us in helping keep us safe," Grammar said.
Mayor Phil Kramer, who attended the party with Township Councilwoman Crystal Pruitt (D-At Large) and Councilman Will Galtieri (D-Ward 2), also thanked Meghna.
"You're an inspiration to all of us," he said. "If everyone in the community could be like you, it would be so much better. Thank you, and we appreciate everything you've done."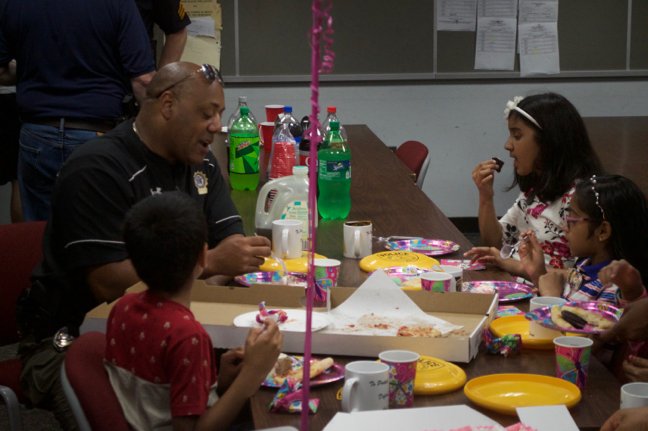 Meghna said she didn't want gifts for her birthday, which was in February, but she wanted the police officers "to be much more protected than usual."
When she heard about the bullet proof vest fund, she said, she knew what she wanted to do.
Meghna raised $236, and her parents, Priya and Visakh Sankar, kicked in the last $64 to make it an even $300.
"I'm so surprised," Meghna said, surrounded by her friends Tulika Punia and Akshaya Baskar, and her brother, Prithvi . "This is all a dream, it can't be true."
"We are so touched," Priya Sankar said.
"It's just amazing, we are overwhelmed," she said. "It is so generous of them. I thought she was going to go around and meet everybody and say hi and see the facility."
Here's a short video of the moment Meghna was surprised:
Your Thoughts
comments