Firefighters Honor 9-11 Fallen At St. Matthias Mass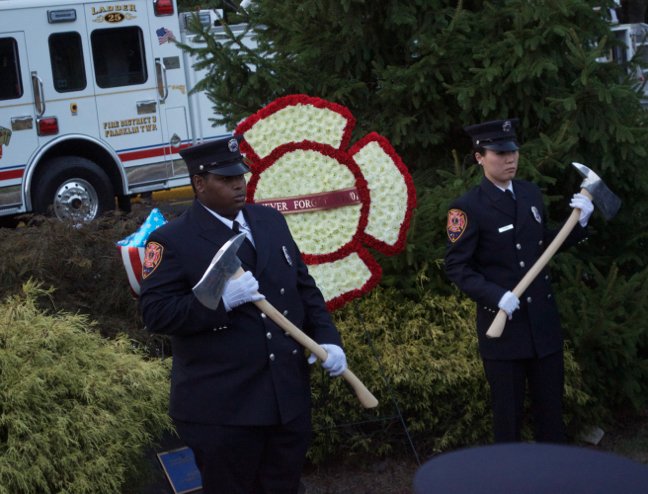 ---
Firefighters, EMTs and their supporters gathered at St. Matthias Church on John F. Kennedy Boulevard Sept. 11 to once again honor first responders who died in the terrorist attacks 18 years ago.
Participants came from departments across the township to hear the names of the firefighters, EMTs and police officers killed in the attacks on the World Trade Center, Pentagon and Shanksville, Pa.
Bill Cullen, Ex-Chief of Elizabeth Avenue Fire Co., told those in attendance that "for 18 years, we've told how the emergency service response was immediate, as firefighters, police and medical police were called upon to render aid to innocent citizens. Their actions and ultimate sacrifice resulted in the greatest rescue effort ever, resulting in the saving of 25,000 from certain death."
Cullen said that "343 members of the Fire Department of New York, including firefighter John Collins from Ladder 25, who grew up in the St. Matthias community, 37 members of the Port Authority Police Department, 23 members of the New York Police Department, and eight responding EMTs, lost their lives fulfilling a vow that each of us here takes when we're sworn in as members of the emergency response community."
"Sadly, the list of those lost continues to grow, as responders succumb to cancers and other medical conditions they now deal with as a result of the toxic environment they were working in trying to rescue their brother and sister responders," Cullen said.
"For some, Sept. 11 is just something they read about or see a reminder on TV," Cullen said. "For others, it's business as usual. For us, it's personal, and that's why we come here today, on the 18th anniversary of that tragic day, in an effort to pay tribute to the extreme sacrifice of these heroes and as a solemn vow that those of us who remain will never forget."
St. Matthias' Msgr. Joseph Curry said the first responders "gather here today and for these past years, to honor our brothers and sisters. To honor people who gave the last full measure and devotion for their brothers and sisters, brothers and sisters that they never met, that they would never know."
"They sacrificed for a people they trusted," he said. "As we gather here today, probably the greatest honor that we can give them is to follow that example. In a day when it is so easy to be bitter or angry or sad over what life can present, to look at each other as our brothers and sisters, to recognize that we don't face any of these things ever alone, and that somehow with God's help, all things can be possible."
Following the reading of names of those first responders killed, the firefighters' traditional "5-5-5-5" bell alarm was sounded in honor of Collins.
The group then went outside, to the front of St. Matthias, where a wreath was placed next to a plaque honoring Collins, and the group sang, "God Bless America."
Following are some scenes from the evening:
Your Thoughts
comments