FHS Guitar, Orchestra Students Get Creative In GO Cafe
Students in the guitar and orchestra programs at Franklin High School got to exercise their creative sides March 19 at the 6th annual GO Cafe showcase.
The 33 students, about evenly divided between guitar and orchestra programs, picked their own music and arranged it especially for the performance, said Patrick Callahan, who heads the school's guitar program.
Callahan and Mark Gunderman, who teaches orchestra, collaborated on the event.
The evening, held in the school's cafeteria – which was specially decorated for the event – featured solo guitarists, string quartets and duos, and collaborations between guitar and orchestra students.
"It's kind of our opportunity to let our students be creative with their performances, different from our spring and winter recitals," Callahan said.
"The students help decorate, do the lights and the sound and the food," he said. "We have some collaboration from our TV students filming the whole thing."
"This showcases another aspect of what we teach," Gunderman said. "It's not just putting on the big production for a concert, but it brings in the creative side."
"The students choose their own music, and the arrange it themselves and they work on it for the presentation," he said.
Callahan said the music students chose spanned a variety of genres.
"There are some classical pieces, some music from video games, some pop music," he said. Some pieces from musicals."
Here are some scenes from the evening: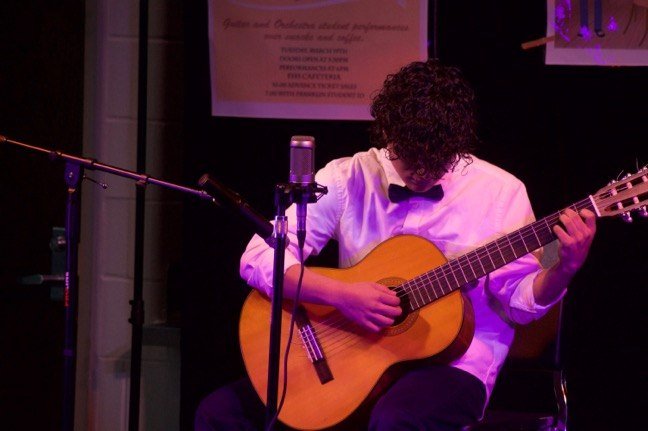 Your Thoughts
comments