Carlos Guzman's Grand Slam Highlights Patriots 10-2 Win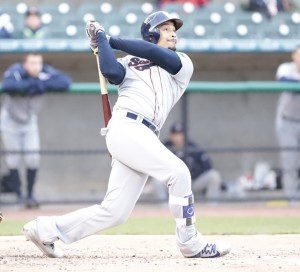 New Britain, CT – A night after suffering their largest margin of defeat of the season, the Somerset Patriots (34-24) bounced back by clobbering the New Britain Bees (27-30) 10-2 Tuesday evening at New Britain Stadium. The Patriots scored seven runs in the seventh inning which was highlighted by a Carlos Guzman grand slam (6).
"Sean Gleason and I we were teammates last year and he throws hard and has good stuff," remarked Guzman who has 11RBI in his last five games. "I knew he was going to try and blow me away with a fastball. He threw me two good sliders for a strike then I fought off a fastball. I was anticipating another fastball and I got it and put a good swing on it."
The Patriots scored first in the top of the third inning when Aharon Eggleston laced an RBI single. He would reach base in all five of his plate appearances on the evening.
New Britain scored twice in the bottom half of the inning. Jon Griffin roped an RBI double while Steve Carrillo blooped an RBI single.
Eric Farris evened the contest at 2-2 in the fifth inning when he drilled an RBI single.
Somerset erupted in the seventh inning. The seven runs in one inning were the most they scored in a single frame since they scored eight in the 12th inning against Lancaster on April 30th. Farris slashed a two RBI single and LaHair rocketed an RBI single to extend his hitting streak to a season-high eight. Guzman then became the third different Patriot to crush a grand slam this season.
"That's Patriots Baseball," Guzman said with a smile. "It's fun for everyone to get hot and give our pitchers a break because we've won a lot of close games lately."
Yovan Gonzalez would add an RBI single in the top of the ninth inning to make the score 10-2 which would be the final.
Shaun Garceau earned his first win (1-1) in five starts with the Patriots. He allowed a season-high 10 hits yet constantly wiggled out of jams. He lasted six innings and only gave up two runs. Sean Gleason suffered the loss (1-1), yielding seven runs in 1.2 innings of relief.
The Long Island Ducks lost to the York Revolution 8-3 so Somerset is two games up in the division with 12 games remaining in the first half.
The 2016 Somerset Patriots season presented by Ford continues on the road until the team returns to TD Bank Ballpark Monday, June 27th for a 7:05 p.m. game against the New Britain Bees. For tickets, call 908-252-0700 or visit www.somersetpatriots.com. Download our Mobile App for free in the Apple or Android App store.
Your Thoughts
comments