Beginning Of Hanukkah Celebrated In Franklin
---
The beginning of Hanukkah was celebrated in Franklin during the week with events at a temple and a local supermarket.
On Dec. 12, Temple Beth El held its annual menorah lighting celebration, which featured a display of menorahs owned by the temple's congregants.
And on Dec. 14, Hillsborough-based Chabad Center for Jewish Life brought its annual menorah lighting celebration to the ShopRite on Elizabeth Avenue.
The Chabad's Miriam Krinsky said her organization likes to bring the ceremony to different locations, such as the township, "to bring the joy of Hanukkah wherever we go."
Hanukkah, she said, represents "joy and light," and the Chabad presents these ceremonies "to bring that joy and light wherever we go, into our everyday lives."
On hand for the event was Township Councilwoman Roz Sherman, in probably her last official appearance as a council member. Sherman chose to not seek re-election this year, and her term ends on Dec. 31.
"It's wonderful to say goodbye at such a joyful occasion," she said. "I hope the light of Hanukkah follows me for the rest of my career."
Sherman said Hanukkah encapsulates her feelings about the world now: "This is the dark time and the light will come and we'll be a better world for learning that that's not what we want. We want a better world for everybody."
Rabbi Eli Garfinkel of Temple Beth El said in an email that "Hanukkah is a time to celebrate the miracles of liberty overcoming tyranny and of light overcoming darkness. At Temple Beth El, we light our menorahs together on one of the eight nights, and I was very pleased to see 60 people here with us on the first night."
"For me, there were two highlights," he wrote. "One was the concert led by 15-year-old Aaron Waller, a graduate of our Hebrew School. He organized and directed this concert all on his own without any help from me, and it was a beautiful thing to see and hear. The other highlight was that we were joined by two esteemed members of the wider community, Eva Nagy of the Martin Luther King Memorial Breakfast committee and Dr. Alex Kharazi of Masjid-e-Ali."
"Hanukkah is an appropriate time for Jews, Christians, Muslims, and all human beings to celebrate both physical and spiritual light, which are universal needs," he wrote.
Here are some scenes from the temple event: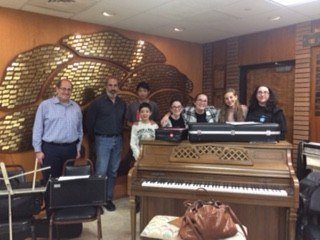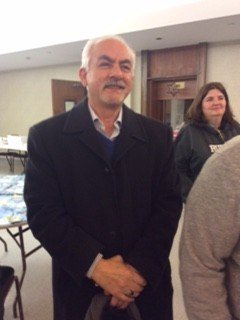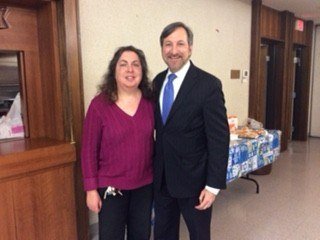 Your Thoughts
comments