Assistant Schools Superintendent Gives Digital Boost To Newsletter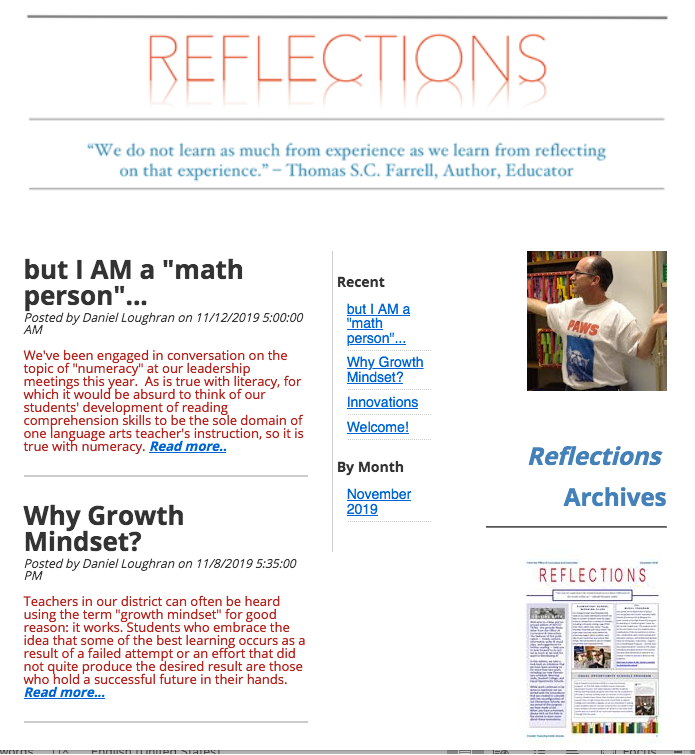 ---
A school district administrator has revived a dormant newsletter with a digital twist.
"Reflections" is a new blog written by Dan Loughran, the district's Assistant Superintendent for Curriculum & Instruction.The blog replaces a bi-monthly printed journal bearing the same name.
Loughran said that his goal is to write about topics that affect all of the district's different constituent groups.
"In a district this size, there are a lot of constituent groups, but what I really had in mind are things that affect all of us, such as we're transitioning into a new report card, and no matter how many times we trot it out there, you never can communicate really enough," he said.
" I'm looking for from time to time to just post an article," Loughran said.
Recent posts talk about the importance of math in everyday lives, the notion of teachers having a "growth mindset," and the power of innovation.
Loughran said he doesn't know how frequently he will be posting.
"Sometimes I might post a lot in a week and sometimes I might go a month with nothing," he said. "And I'll feel good about that, because they will be meaningful things to share."
Schools Superintendent John Ravally announced the new blog in his "Superintendent's Report" during the November 21 school board meeting.
The blog can be seen on the district's web site, in the Curriculum & Instruction section.


Your Thoughts
comments