York Tops Patriots 3-1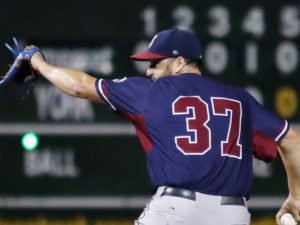 York, PA – The York Revolution (30-25, 70-54) topped the Somerset Patriots (30-26, 68-58) 3-1 Saturday evening at PeoplesBank Ballpark.
"My backdoor sinker was my best pitch tonight," said starter Donovan Hand who tossed a season-high 116 pitches. "I tried to keep the team in the game and give our offense a chance. We have a great team. Getting out of the bases loaded jam in the seventh was a big moment personally for me."
Kevin Rivers blasted a home run (8), and Travis Witherpsoon socked an RBI triple in the second and third innings respectively to make the score 2-0.
The Patriots lone run occurred in the fourth frame as Kyler Roller ripped an RBI double to cut the deficit in half.
York would add its final run in the fifth inning as Jared Mitchell laced an RBI single.
James Simmons (10-8) earned the win. He yielded one run over the course of six innings. Hand (4-7) suffered the loss as he surrendered three runs and struck out six batters. Mike DeMark (33) notched the save throwing a scoreless ninth inning.
The 2016 Somerset Patriots season presented by Ford continues on the road until the team returns to TD Bank Ballpark on Monday, September 5th for a 6:05 p.m. game against the Sugar Land Skeeters. For tickets, call 908-252-0700 or visit www.somersetpatriots.com. Download our Mobile App for free in the Apple or Android App store.
Your Thoughts
comments