Somerset Patriots RHP Alexis Candelario Signed By Los Angeles Dodgers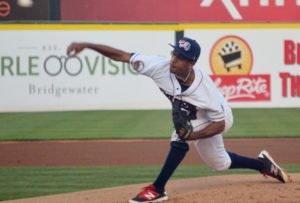 Bridgewater, NJ- The Somerset Patriots have announced that right-handed pitcher Alexis Candelario has been signed by the Los Angeles Dodgers organization.
Candelario had two stints during the 2016 season with the Somerset Patriots. He first joined the team in mid-June before having his contract purchased by Veracruz of the Mexican League. He re-joined Somerset at the end of August and into the postseason.
Candelario was 2-1 with a 5.01 ERA and 47 strikeouts in 37.2 innings pitched in eight games (seven starts) for the Somerset Patriots during the 2016 campaign.
Before joining the Somerset Patriots, Candelario played most of his career in professional leagues in Central America. He has played in Nicaragua, Mexico and his native Dominican Republic before playing in Italy for two seasons.
Candelario spent the first part of 2016 in Rimini of the Italian Baseball League where he finished with a 4-2 record, a 1.88 ERA and 54 strikeouts in 38.1 innings pitched in seven games started.
He spent the 2015 season with La Guaira in Venezuela and had a 3-2 record with a 2.16 ERA and 42 strikeouts in 58.1 innings pitched in 14 games (11 started).
Candelario played for Navojoa in Mexico in 2011 and 2012 where he appeared in nine games over the two seasons. In 2012 for the Marineros de Ensenada in the Liga Norte de Mexico, Candelario went 10-3 with a 2.93 ERA in 101.1 innings pitched in 15 starts.
He has a career 12-9 record with a 2.91 ERA and 191 strikeouts in 191.2 innings pitched in 45 games pitched.
Candelario is the sixth member this year's Somerset Patriots team to join a Major League organization. Starting pitcher Darin Gorski (New York Mets) along with relief pitchers Gus Schlosser (Los Angeles Dodgers) and Brandon Sisk (Seattle Mariners) all had their contracts purchased earlier this season. Left-handed pitcher Nik Turley (Minnesota Twins) and infielder David Vidal (Miami Marlins) were both signed earlier this offseason.
The Somerset Patriots led the Atlantic League in attendance in 2016, finished with the best regular season record in the league and made their fourth straight trip to the playoffs. The schedule for the 2017 season, which includes the team's 20th Anniversary and the 2017 Atlantic League All-Star Game at TD Bank Ballpark, has been released. For more information, stop by TD Bank Ballpark, call (908) 252-0700, or visit www.somersetpatriots.com.
About The Atlantic League of Professional Baseball (ALPB)
The Atlantic League has been a leader in professional baseball and a gateway to Major League Baseball since 1998. Over 36 million fans have attended Atlantic League games and more than 800 players and 50 managers and coaches have joined MLB organizations directly from the ALPB. The Atlantic League emphasizes winning baseball games, showcasing the talent of top-caliber players and offering affordable family entertainment to metropolitan markets serving nearly 15% of the US population.
For more information, please visit www.atlanticleague.com. 
Your Thoughts
comments