Patriots Make It Eight In A Row With Exciting 2-1 Win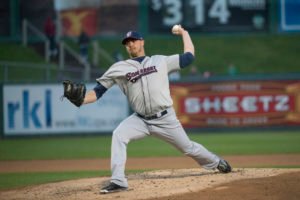 Lancaster, PA – The Somerset Patriots (8-0) spoiled the Lancaster Barnstormers' (5-3) home opener at Clipper Magazine Stadium by rattling off their eighth straight victory to start the season. Somerset edged Lancaster 2-1 Thursday evening as the bullpen continued its dominant play. In the final three innings Lancaster stranded six runners against Somerset's relievers.
"We've got a bunch of grinders in this bullpen and it's just fun to be part of," said closer Jon Hunton who notched his third save of the season by stranding the tying run at third base in the ninth inning. "We love to compete and push each other. Comes down to focus and execution."
The Patriots struck first in the top of the third inning. With two outs, left fielder Aharon Eggleston laced an opposite field double. The ensuing batter, designated hitter Bryan LaHair, stroked an RBI single to give the Patriots a brief 1-0 lead.
On the very first pitch of the home half of the inning, catcher Charlie Cutler crushed a solo home run (1) to right field to even the contest at 1-1. That was Somerset starter Jeremy Horst's (1-0) only blemish as he hurled 6.1 innings, scattered four hits and struck out seven in the win.
"It was cold out there so I just wanted to work quickly and pound the zone," said Horst of the 45 degree weather that featured light mists throughout the game. "I knew we were a little short in the bullpen from yesterday so I wanted to help out and go deep and compete."
Somerset scored the go ahead run in the top of the fifth inning as Eggleston scampered home on a wild pitch hurled by Barnstormers starter Austin Bibens-Dirkx. Bibens-Dirkx (1-1) walked four in five innings while suffering the loss.
Gus Schlosser struck out a pair with the bases loaded in the seventh inning. Kyler Newby stranded a runner in the eighth inning. Hunton put the tying run on third and winning run on first in the final frame, but struck out center fielder Travis Witherspoon as Somerset won its fourth one-run ball game of the year.
"I'm really pleased with the way we are playing," reigning Atlantic League Manager of the Year Brett Jodie said. "Horst set the tone and we got enough offense to get the victory."
The 2016 Somerset Patriots season presented by Ford continues on the road in Lancaster until Tuesday, May 3rd when the Patriots return to TD Bank Ballpark for a 7:05 p.m. game against the Southern Maryland Blue Crabs. For tickets, call 908-252-0700 or visit www.somersetpatriots.com.
Your Thoughts
comments