Muslims Celebrate End Of Ramadan At Masjid-e-Ali
Hundreds of congregants gathered at Masjid-e-Ali June 15 to celebrate Eid al Fitr, the end of the Islamic holy month of Ramadan.
Muslims around the world engage in fasting during daylight hours throughout the month of Ramadan, which began this year in mid-May. Eid al Fitr, or festival of breaking of the fast, marks the end of the obligation.
Observing Ramadan is considered one of the Five Pillars of the Islamic faith. Adherents believe that one must follow those five pillars to live a just life.
Following prayers and comments from the Cedar Grove Lane mosque's officials and Imam, congregants moved to the lower level for lunch.
Dr. Parviz Hamedani, the mosque's president, reminded those in attendance that "today there are many people who are not sitting in such a nice conducive environment which you see around you, and with the food you will be served soon. Let us remember those oppressed people of the world today."
"Ensure that you participate in all the activities in the country you live in, contribute to assure that oppression is removed to the world," he said. "Participate in your communities, please. Go into politics, go into journalism, make sure at least today that when you go back home you contact at least one person who is not a Muslim, spread the message of peace."
"With the rising xenophobia, festivals such as Eid have become opportunities to foster goodwill among our friends, neighbors, colleagues, and others," said Rizwan Rizvi, the mosque's Imam. "Today Muslims and other minority groups in the west are facing great challenges. Uninformed and dangerous rhetoric has been deeply disturbing, even frightening. The background that has allowed such as situation to arise goes back many, many years."
"It is clear that we need to cultivate understanding in a society that is constantly exposed to a barrage of negative stereotypes against Muslims," he said.
Speaking to the spiritual message of Ramadan, Rizvi asked, "has it been able to bring any sort of positive change, or positive energy to you?"
"Take this opportunity to live up to the expectations of Allah," he said.
Here are some scenes from the celebration: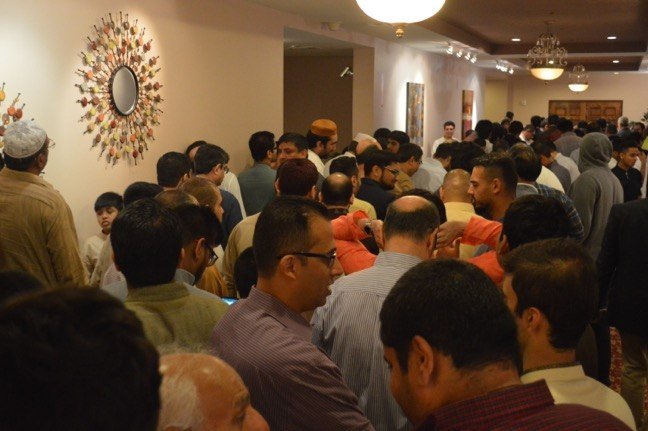 Your Thoughts
comments