Louis Solomon Returns To School District As Franklin High School Vice-Principal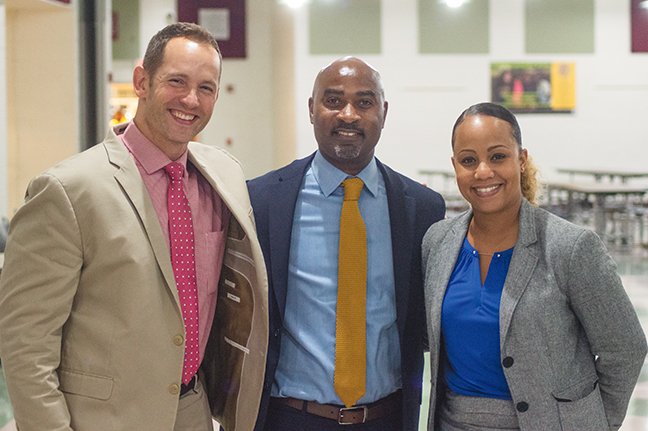 The Solomon family's position as educational leaders in the township was reinforced Aug. 22 when the Board of Education approved Louis Solomon to be a vice-principal at Franklin High School.
When he starts in early September, Solomon will be the vice-principal of the 11th Grade. Solomon joins his sister-in-law, Rebekah Solomon, who is the vice-principal of the 9th Grade.
Solomon's brother, Nicholas, is principal at Franklin Middle School – Hamilton Street campus.
This is not Louis Solomon's first term in the district; he was formerly a dean of students and special education teacher at FHS for 13 years. For 11 of those years, Solomon was the head coach of the football Warriors.
Solomon took a year away from the district, during which time he served as the assistant principal at Lawrence Middle School in Lawrenceville before coming back to Franklin.
In total, Solomon has 22 years in education. He has worked in the Perth Amboy, Asbury Park and West Windsor South high schools.
"I'm excited about coming back to Franklin," said Solomon, an FHS graduate and football standout. "It's home, it's definitely where I feel like I belong."
Solomon told the school board that he was "excited by the opportunity" to "come back and represent the town that gave me so much."
"We're very excited that Mr. Solomon has accepted our offer to return," schools Superintendent John Ravally said. "Here he is after gaining a little bit of experience, coming back to fill a void that we have."
"We're very happy that he accepted our offer and is returning to Franklin High School, where he belongs," Ravally said.
FHS principal Frank Chmiel said the administrative team at the school is "really excited" about Solomon's appointment.
"Lou Solomon got some great experience at Lawrence Middle School," he said. "One of the things he implemented was an attendance credit recovery system that we're very interested in implementing here."
"His fit with the team is excellent, he has a lot to offer the team," Chmiel said. "Comradery and collegiality is extremely important because the school made a lot of strides in terms of its climate and we need to keep that going. Lou Solomon is the perfect addition to the team."


Your Thoughts
comments