Life Story: Mary Ruperto, 94; Born In Somerset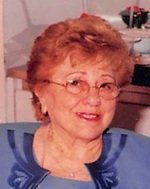 Mary Ruperto, 94, passed away surrounded by her family on December 29 at St. Peter University Medical Center in New Brunswick.
Mrs. Ruperto was born April 29, 1924 in Somerset to the late Concetto and Carmella (Sansone) Georgiana. She lived in New Brunswick from 1947 to 1962 before settling in East Brunswick.
Mary was a longtime parishioner at St. Mary of Mount Virgin Church in New Brunswick. She was a devoted homemaker and valued being the mother to her four children. Most of all she cherished being a grandmother to all of her grandchildren and great grandchildren. Mary also loved traveling, dining, dancing and especially loved music.
Mrs. Ruperto was preceded in death in 1979 by her loving husband, Vincent Ruperto, her sisters, Frances Huff and Josephine Brown.
She is survived by her daughters, Donna Ruperto and Carolyn Ruperto of East Brunswick; her sons, Vincent Ruperto and his wife Angela of East Brunswick and Charles Ruperto and his wife Krista of East Brunswick; her brother, Frank Georgiana and his wife Joyce of Somerset; her sister, Theresa Marano of Somerset; her grandchildren, Vincent, Anthony, Nicholas, Marissa and Samantha, her great-grandchildren, Leah, Leonardo, Labella, James, Olivia and Giovanni and a host of nieces and nephews.
Visitation will be held at Gleason Funeral Home, 1360 Hamilton Street on January 2nd from 2-4 PM and 7-9 PM.
Funeral services will be held January 3 at 10:30 A.M. at St. Mary of Mount Virgin Church. Burial will follow at St. Peter Cemetery in New Brunswick.
Your Thoughts
comments