Life Story: John Treantafillou, 88; Hotel, Restaurant Chef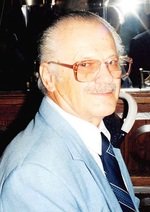 John Treantafillou, 88, passed away on July 31 at his home in Somerset.
John was born 1931 in Karpenisis, Greece to the late Panagioti and Ageliki Treanafillou. He immigrated to the US in 1951 to South Carolina. While visiting friends in New Jersey, he met his wife of 55 years, Dina and settled in Somerset.
John worked as a chef for various local restaurants and hotels. Upon his retirement, John enjoyed tending his fruit trees and building numerous bird houses.
John was predeceased by his parents; his wife, Dina and his brother, Andreas (Kaliope).
He is survived by his sons, Peter and Nicholas (Kirsten); his grandchildren, John, Steven and Kostas; his brothers, Athanasios (Maria) and Leonidas (Maria).
Family and friends may visit from 10 to 11 a.m. August 5, followed by an 11 a.m. service at the Gleason Funeral Home, 1360 Hamilton St. Burial and committal services will continue at Van Liew Cemetery in North Brunswick.
In lieu of flowers please consider making a donation to the Somerset County Meals on wheels program.


Your Thoughts
comments