Life Story: Charles Saich, III, 74; Giants, Yankees Fan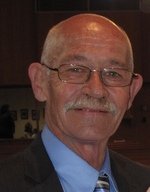 Mr. Charles Saich died Oct. 21 at St. Peter's University Medical Center in New Brunswick. He was 74 years old.
Mr. Saich was born in Elizabeth . He graduated from Katzenbach School for the Deaf and excelled in high school athletics. Mr. Saich was a devoted New York Giants and New York Yankee fan. In his spare time he loved to refinish old furniture and arts and crafts.
He worked on the maintenance staff at The Park at Franklin, the Stop and Shop of Somerset and St. Matthias church.
Mr. Saich was pre-deceased by his brother Edward Saich and his parents Charles and Eileen Saich.
He is survived by his wife of 46 years Jane, of Somerset and their sons Michael and his wife Jennifer of Somerville and Christopher of Florida. He is also survived by his four sisters Eileen, Cathy, Pat, and Diane,grandchildren Colin, Brenna and Gemma along with many nieces, nephews and friends.
In lieu of flowers please consider a contribution in Mr. Saich's memory to the Katzenbach School for the Deaf.
Your Thoughts
comments