Lady Warriors Continue Winning Ways, Top Hunterdon Central 73-42
---
The Franklin High School Lady Warriors on Feb. 27 booked a slot in the NJSIAA North II, Group IV semi-finals by delivering a definitive defeat to the Hunterdon Central Regional Red Devils, 73-42.
The closest Hunterdon got was a 6-6 tie in the opening minutes, but a 7-point run – a converted defensive rebound, followed by a nice 3-pointer by Keona Schenck, two converted foul shots by national All-American Diamond Miller and the same by senior Tiana Joy Jackson after she took a nasty fall – put the Lady Warriors up 13-6, and they never looked back.
By the time the first quarter buzzer blew, the Lady Warriors had a comfortable 18-11 lead.
The Lady Warriors increased their lead in the second quarter, outscoring Central 21-12.
Kennady Schenck hit one of her three 3-pointers and Miller, missing a layup twice and getting her own rebound both times, finally hit on the third try on the way to the Lady Warriors 39-32 lead with just seconds left. Central hit a buzzer-beater to hit the locker room trailing 39-23.
The lady Warriors hit the boards running in the second half.
On the Red Devils' opening possession, Kennady Schenck stole the ball and went coast-to-coast to convert the layup, putting Franklin up 41-23.
That was followed by another Lady Warriors run in the next three minutes, with Miller hitting a layup and a short jumper by Jackson – who seemed to have shaken off anything she was feeling from that fall – putting Franklin up 45-23 with 4:57 left in the third.
The Lady Warriors ended the third quarter up 63-30.
Central actually outscored the Lady Warriors 12-10 in the fourth quarter, but it was much too little, much too late, with Franklin nailing down the 73-42 win.
Miller led all scorers with 24 points, six of them coming from downtown.
Kennady Schenck, on the power of her three 3-pointers, finished with 15 points.
Jackson, who has been hitting more consistently over the last few games, contributed 10 points and junior Keona Schenck hit for nine points.
Sophomore Kyierah Dempsey-Toney dropped four points, sophomore Erica Jackson and senior Luese Ufuah scored three points each, and sophomore Morgan Jones and freshman Christina Midgette scored two points each.
Sophomore Jalysse Wynns rounded out the scoring with one point.
After the game, Tiana Jackson said she was feeling fine, and that she had "rolled" her ankle.
"I just had to play through the pain," she said. "We took care of business and got the win."
"I loved that it was a team win," Lady Warriors coach Audrey Taylor said. "Everybody contributed offensively and defensively. I loved our energy, that we came out with leadership and we were focused."
The Lady Warriors have outscored their last two opponents by a combined total of 100 points, racking up a total score of 156-56.
Taylor said she doesn't pay much attention to combined point totals.
"To me, it's about who you're competing against and going out to win," she said. "As long as we get that W."
Next up for the Lady Warriors is Ridge High School, who will face Franklin at home at 7 p.m. March 1 in the Group IV semi-final game.
"We're looking forward to it and we're ready to compete," Taylor said.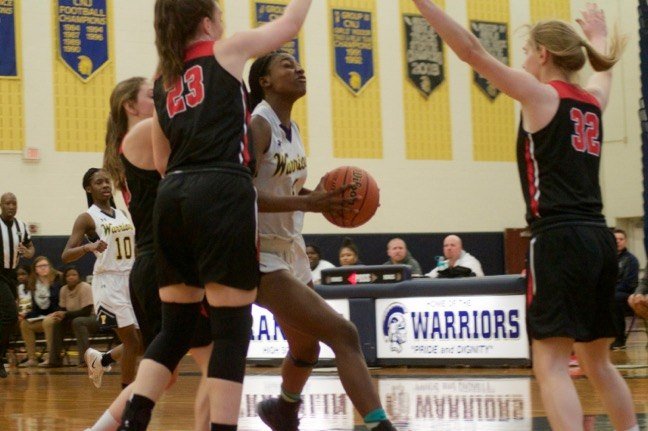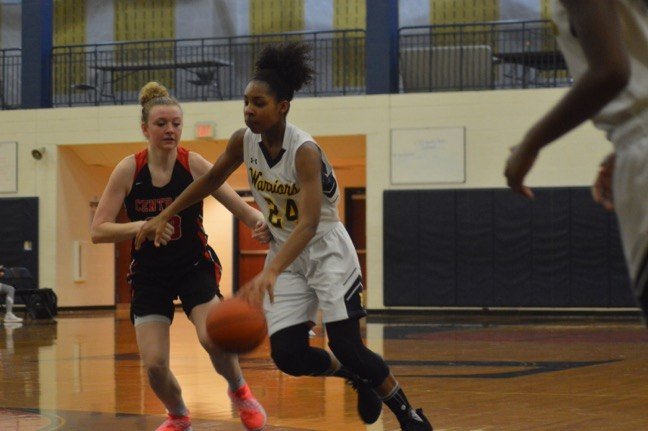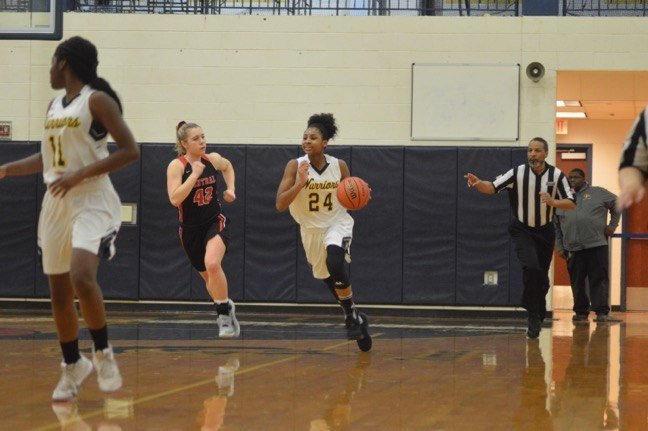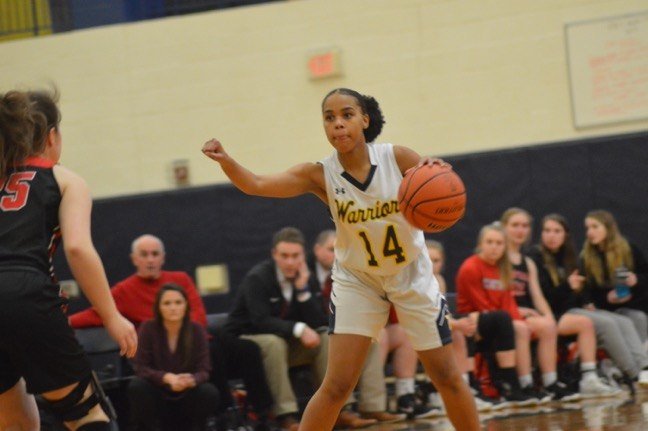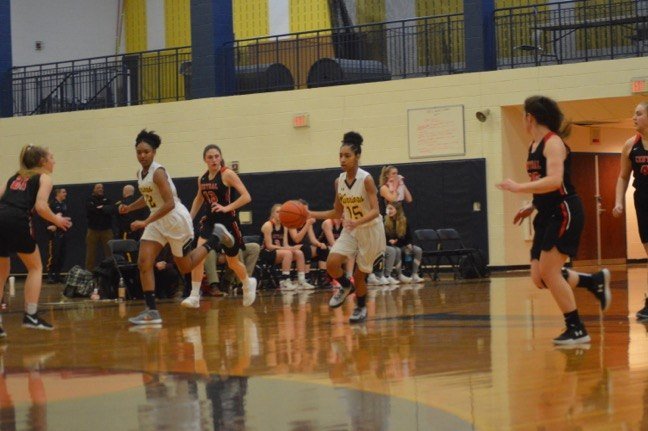 Your Thoughts
comments